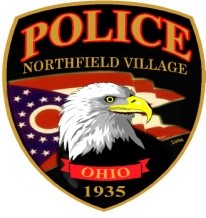 By Victor Milani
Monday night about 10:41, The Northfield Village Police were dispatched to the Terrace Apartments on Ledge on a call for a suspicious car in the apartment parking lot. Upon NVPD arrival, the car, with two passengers, (Justin Hall and his girlfriend) sped away down Ledge Rd. at speeds sometimes hitting 80 mph. With Northfield Village Police officers Craig Wilson and Warren Olesinski in pursuit, the car turned left at Shepard Rd in Macedonia, then turning right on Rt. 82 in Twinsburg. The pursuit, at this point between 35-45 mph, traveled to Rt.82, where the chase then went into Aurora. The driver of the car turned around in a Aurora parking lot, and back tracked down Rt.82 back into Twinsburg. The passenger in the car, jumped out of the vehicle in front of the New McDonalds and Dunkin Donuts on Rt.82 in Twinsburg. The chase continued down Rt.82 in Twinsburg , where the Twinsburg Police threw down stop sticks, which punctured the front tire. NVPD Officer Wilson hit the car attempting to make a U turn at Chamberlain Rd in Twinsburg. Both cars escaped that incident, and continued down Rt.82 through Macedonia, Northfield Center (NVPD Sgt. Brian Zajac joined the pursuit at Olde 8 and Rt.82) , Brecksville and finally ending in Broadview Heights.
The driver of the suspicious car, 33 year old former Northfield Village resident Justin Hall, now residing in Cuyahoga Falls, stabbed himself twice and injected himself with heroin during the chase, which ended at 11:33pm. Hall requested to speak with his grandmother upon being stopped, and after a lengthy discussion with the grandmother, as well NVPD Officer Olesinski and Broadview Hts. Officer Michael Lipinski, lead to the peaceful surrender of Justin Hall. He was taken to a Broadview Heights medical facility, where he was being evaluated.
The passenger of the car, Hall's girlfriend, was taken back to Northfield Village for questioning after jumping from the car in Twinsburg. Charges are pending against Hall. The only damage done was to the NVPD Police cruiser, which sustained $2500 in front end damage after the U turn crash with Hall's vehicle. A job well done, especially to NVPD on a safe, peaceful ending.
Earlier in the week, NVPD on a routine traffic stop of a Valley View man, found he had in his possession 79 Xanax pills and marijuana. He was taken into custody and booked. NVPD Police Chief John Zolgus and his department are being diligent in taking drugs off the streets of Northfield Village.
See related story and video from News 5 Cleveland