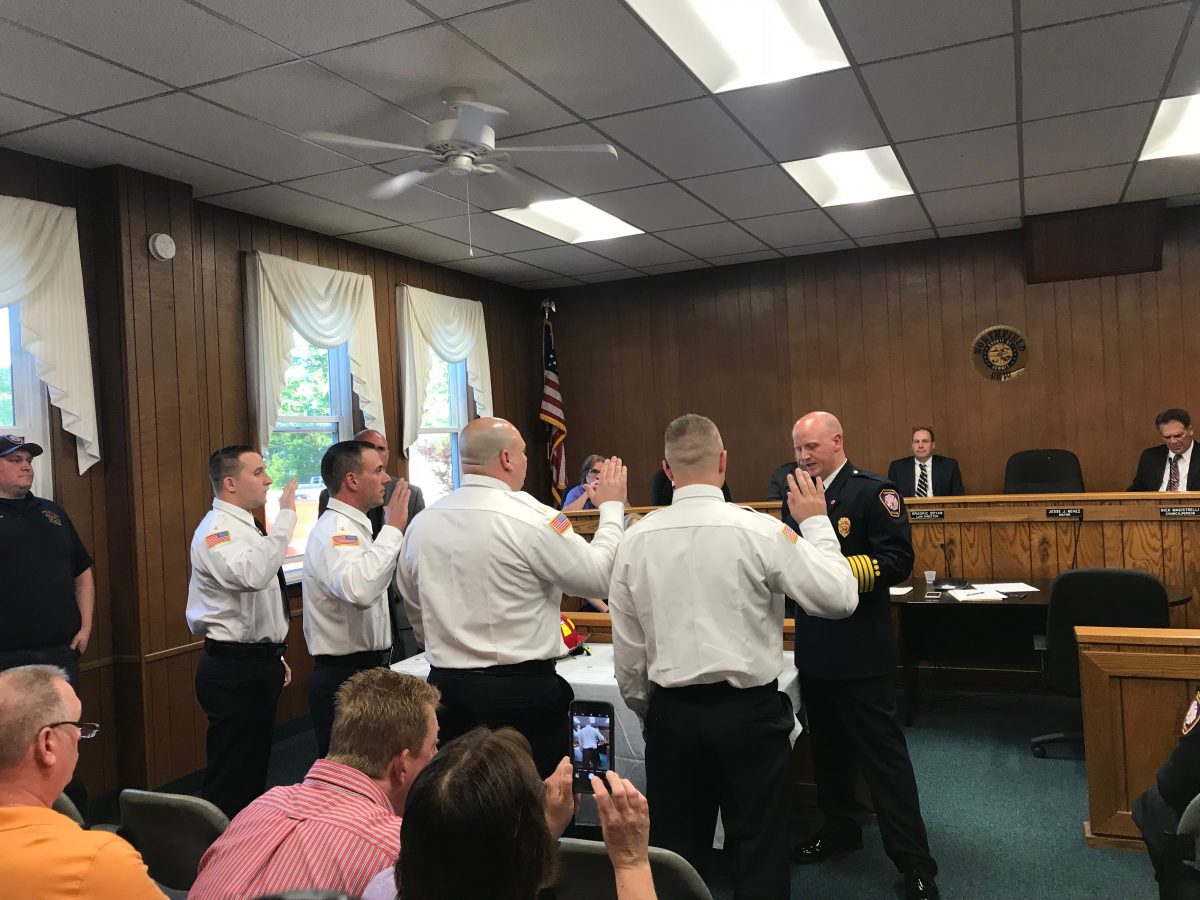 By Victor Milani
The Northfield Village Council and Mayor Nehez made four promotions within the NVFD (see FD report). The Ledge Road Reconstruction Project is a little ahead of schedule, with a best case scenario of a late August completion (weather permitting). Even after repeated warnings by the Chief John Zolgus of the NVPD, some motorist continue to disregard the ROAD CLOSED signs on Ledge Rd. Local residents within the construction zone, traffic to Lee Eaton, the day care, and the Northfield Village Service Garage on Ledge Rd. are the only vehicles allowed passage. Police will continue to monitor Ledge Road for violators and citations will be written. At least fifty citations have been written, with at least double that amount of drivers being warned.
The Northfield Village Service Department, as part of Mayor Nehez beautification plan, hung 14 flowering baskets on Route 8. More baskets will be added to enhance the look of the Route 8 corridor according to Mayor Nehez.
Congratulations to recently promoted Lieutenants: Steve Hren, Paul Wojtkiewcz, Pat Phillips and Jordan Jachna!
Northfield Village Mayor Jesse Nehez and Northfield Center Trustee Paul Buescher attended two senior meetings at the Lutheran Church to gauge an interest in going to Macedonia Community Room. Nehez took a informal survey of those who were there, and almost all indicated they did not want to go to Macedonia, preferring a Northfield Village or Northfield Center venue. Mayor Nehez, scrambled to get bids from the Northfield VFW and the Northfield Events Center, hoping for the seniors to have a viable option. Unfortunately, both bids didn't meet the criteria, or the proposal was not completed correctly. At that point, Northfield Village had no choice but to join Northfield Center, and Sagamore Hills, in agreeing to the Macedonia proposal. Nehez and Buescher were disappointed that the Seniors weren't given an option, or a voice in the decision where to hold their lunch activities.
Seniors from Nordonia Hills (Northfield Center and Sagamore Hills officials previously accepted the Macedonia Proposal) will join the group. The Lutheran Church in Northfield Center, which previously was the Senior venue, will no longer be available after June 1st. Macedonia will offer three days. Monday, Wednesday and Friday for lunch and activities. All seniors will pay $3.00 on Wednesday with non-Macedonia residents paying a $4.00 fee on Monday and Friday. Each community will pay a $3,500 fee annually for the usage of the facility.
For more in depth reports from Northfield Village department heads, see attached reports below.
Watch the Northfield Village Council Meeting Video from Nordonia Hills. News.