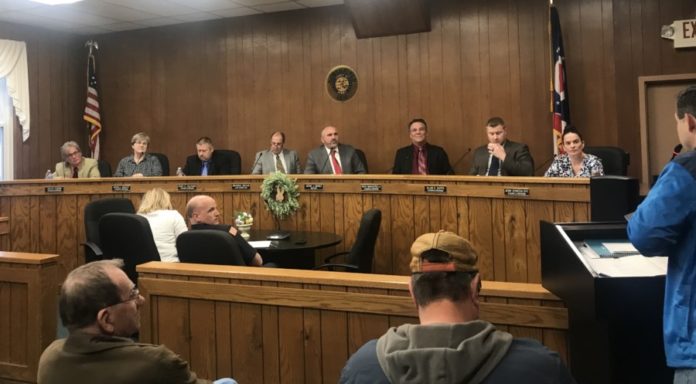 By Victor Milani
View the agenda, Police Department and Fire Department reports here.
The Northfield Village Council meeting Wednesday began on a positive note with Nordonia Hills Supt. Joe Clark thanking Mayor and some of Council for endorsing School Levy Issue #3 (see related article). He stressed the importance to the schools and the community of its passage.
From that point the meeting took a turn for the worse. During public comments, resident Randy Miller of 89 Magnolia commented that Mayor Nehez's beautification plan has been a failure. He pointed to the parks being pathetic, and it being shameful there were no lights or Christmas tree in the Gazebo this winter. Miller went on to state that he wonders where the money from the MGM has gone to. He also stated that he feels Northfield should strive for a higher standard, and more should be done for the community. He completed his editorial comments saying he sees more business's moving out, than moving in and is growing tired of the nonsense from this administration.
Former Councilman Jim Daughtery was next and stated that he would like to see Northfield run more like a business or corporation Daughtery questioned the need for an assistant Finance person, when council meeting minutes are sometimes 6 weeks late for council's approval. Daughtery also inquired why the Clerk of Courts doesn't answer her phone at various times when he has called. Daughtery then inquired how Councilman Keith Czerr can sit on Council when he has allegedly been a proponent of being  anti government. Czerr refuted that claim, asking if Daughtery was brandishing his gun, which he has a CCW license for. A heated debate between the two ensued with Czerr questioning if Daughtery was threatening him. Daughtery ended his comments saying he thinks Mayor Nehez is doing a good job.
Councilman Czerr was chastised by other members of council during the meeting. Councilor Jenn Domzalski in a heated dialogue, stated Czerr has a dangerous, slanderous vile mouth as well as being a smart ass. Czerr called Domzalski sketchy. Both Domzalski and Czerr said the other should step down from council. Councilor Hipps stated he sees Czerr staring out of the windows and making false allegations. Mayor Nehez said he has tape of Czerr staring out the window into space. Hipps also retorted Czerr has not called him concerning Park issues, of which he is the Board chairman. Hipps accused Czerr of commandeering his committee. Czerr said the residents are losing faith in this council and Mayor Nehez, and are tired of just getting lip service from the Mayor. Council President Magistrelli stressed "this town has 60 years of little income and issues, and wont be fixed in four or five years of finally having revenue". "There are at least $18 million dollars of infrastructure projects and we have done 22 a road repairs. Patience and being prudent with our finances must be shown", Magistrelli stated.
Renell Noack said she is looking into getting banners of veteran groups to adorn the Rt. 8 corridor.
This is the second meeting in a row, where Council has displayed a lack of self control. This outlandish behavior is reminiscent of the Wednesday nights at the fights that occurred in the 80's and 90's, at Northfield Village council meetings. The name calling and personal attacks must come to end.
THE COUNCIL MEETING CAN BE SEEN IN ITS ENTIRETY BELOW. WE WELCOME YOUR COMMENTS OR LETTERS TO THE EDITOR. Send your letter to the editor to: julie@nordoniahills.news