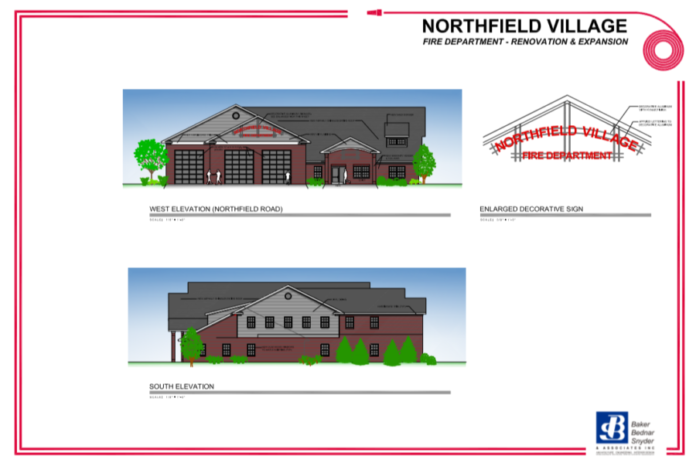 By Julie D'Aloiso
Before the regular meeting, Baker Bednar & Snyder (B.B.S.) presenting the plans for the fire station renovations (see documents here):
Plans 8-15-19
SW Elevations 8-15-19
Watch video here:
The video from the council meeting can be seen here in entirety. The details of the meeting are below the video.
In the beginning of the Village of Northfield meeting, the council and the mayor, observed a moment of silence for 911 and Beatrice Greenley who has recently passed.
Mayor Nehez reported at the beginning of the meeting that the Northfield plaza owner, Howard Shafron, is redoing the parking lot at the plaza in Northfield and also on Ledge Road. Both properties are also getting new signage because of the new signage code.
Mayor Nehez also reported in the meeting that movie night was a great success. Even though it had rained earlier that day, over 30 people same. They will have another movie next year.
Tricia Ingrassia announced that First National bank and NOPEC have donated money for the Halloween party, the Christmas Party and Easter events in Northfield Village.
Upcoming event dates:
Veterans Day: October 10th 3 pm
Halloween Party: October 31st 6-8 pm
Christmas Party with Santa December 15th 4-5 pm
Keith Czerr from Health and Public Works brought up some issues in his ward and was reminded to meet with his committee and then report to council his findings.
Legislation: An Emergency Resolution Confirming the Mayor/Director of Public Safety's Appointment of Catherine Caporossi as a Part-Time Police Officer (PASSED).
---
ENGINEER'S REPORT – RICHARD S. WASOSKY, P.E., P.S
CATTS Construction has regraded and installed asphalt grindings at the Service Department parking area at 199 Ledge Road and has cleaned up the old Wastewater Treatment plant area. The only remaining item that they have to look at is the broken curb along the northside of Ledge Road west of Milford Drive. CATTS will not be installing the underdrain on the Laubinger property.
S.R. 8 and Ledge Road Traffic Signal Replacement
Signal Service has submitted an estimate to replace the damaged mast arm signal support at the southwest corner of the Ledge Road and Northfield Road intersection. I gave a copy to Police Chief Zolgus to submit to the lady's insurance company for payment.
Subject: Houghton Road Reconstruction and S.R. 8 Traffic Signals Improvement Project
Comment: The topsoil and seeding has been completed for the entire project, and the final signs and mailboxes have been installed. Houghton Road and Vorderman Road are now completely opened to traffic. The traffic signals at the three intersections will probably not be installed until December.
Subject: Rainbarrel Workshop
Comment: The Village will cohost a Rainbarrel Workshop with Summit County Soil and Water and the Tinkers Creek Watershed Group at 6:00P.M. on Wednesday, September 18, 2019 at the Northfield Village Assisted Care facility. Two members of the Service Department should pickup the 9 rainbarrels at the Twinsburg Coca Cola Plant at 10:00A.M. on September 18, 2019 and deliver them to the Northfield Assisted Living Care facility. The two Service department members should also be there to help the participants drill and put together the rainbarrel systems at 6:00P.M. The Service Department should also bring as many drills and screwdrivers that they have to share with the residents.
Subject:
Comment: Houghton Road and Vorderman Road Asphalt Milling and Resurfacing
The preconstruction meeting with the Contractor, Karvo Companies, is scheduled for 8:30A.M. on Monday, September 16, 2019 at the Northfield Service Department at 199 Ledge Road. Jason Walters and Chris While should attend if possible. I will also be there.
Northfield Village Fire Chief Jason Buss Report
Activity Report
– A detailed copy of any fire department activity is available upon request.
– Call Statistics – As Sept 11, 2019 responded to a total of 593 incidents in 2019 (+5% over last year at this time). Of NVFD's total responses, 474 (80%) of those incidents were EMS related and 119 (20%) incidents were FIRE related.
– Mutual Aid Report – In 2019, NVFD provided mutual aid for 36 incidents, provided automatic aid 23 times, and received mutual aid for 15 incidents and automatic aid for 3 Incidents. (Total MA received in 2013 was 13, 2014 was 15, 2015 was 22, 2016 was 28, 2017 was 26, 2018 was 29)
– NVFD's Average Response Time from time of call till time on scene is 3:35
– MGM & NVRC Stats – NVFD responded to 106 medical / 2 fire incidents at MGM/NPRT and 49 medical / 2 fire incidents at NVRC in 2019
Fire Inspector / Prevention Report (September 11, 2019) – 56 Annual Fire Inspections have been completed – 11 Hood/Duct/Alarm/Sprinkler Tests have been completed – 54 Standby Events at Hard Rock Rocksino – 2017 OFC Radio Compliance Test Due at Hard Rock on 7/2019 Department News / Upcoming Events
Fire Station Remodel – Thank you Baker Bednar & Snyder (B.B.S.) for presenting the station information this evening.
MDA – Congratulations to the Northfield Village Fire Firefighters Association on their collection of $11,448 through the Fill the Boot Campaign back on the weekend of August 24th.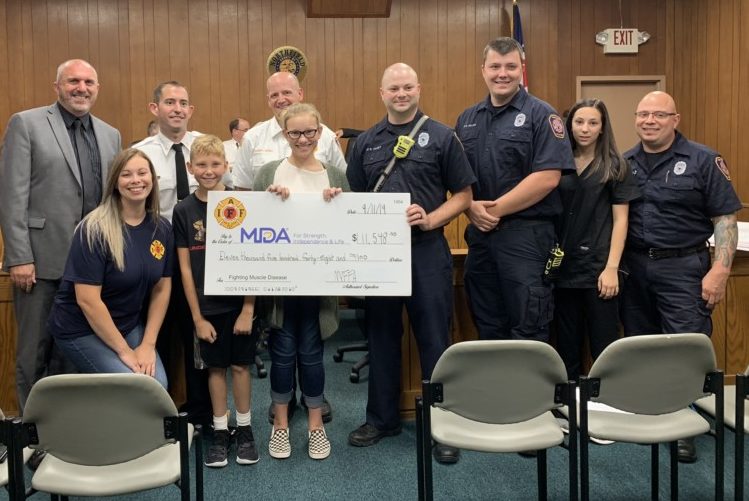 Magnegrip Exhaust System
– The vehicle exhaust system is being installed this week and should be in service by the end of next week. This is funded primarily through a FEMA AFG Grant.
Joint Training with Macedonia Fire
– We will be conducting joint training with Macedonia Fire Department at the Cuyahoga Community Fire Academy on September 17th and 24th.