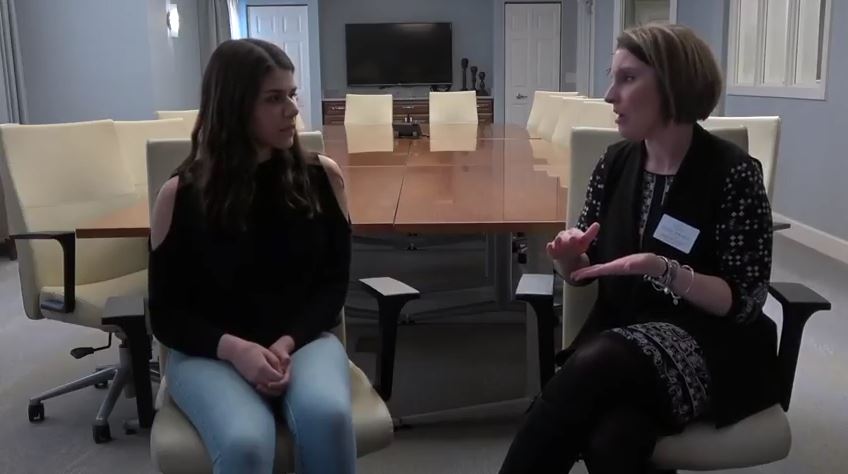 Christina DeRusso interviewed Susan Krupitzer, Michael Valore, and Allie Zabrosky at Vista Springs Macedonia. She was very interested in what they do now and what they wanted to do when they were in high school. Not only did she interview them, she set up the video camera and edited the video.
Four other students at the high school wrote about the interviews:
By Simran Dhillon

Allie Zabrosky is the Life Engagement Director at Vista Springs Macedonia. Her job is filled with programming activities for their guests in hopes of "enriching their day." Actually, before the interview, she had just made some maple syrup and biscuits to celebrate maple syrup day. She tells us, "It's just part of the day." Allie has a background in marketing from Kent State and though you wouldn't expect that to be a part of her job, it kind of is. Events sponsored by Vista Springs and any promotion of Vista Springs on shuttles or at an outing is a little bit of marketing if you think about it. Originally, in high school she thought she would be into journalism but with certain circumstances and evolving in life in general, she says to us that she ended up where she was meant to be. Finally, for anyone who may want to be apart of Vista Springs, she gives some helpful advice to them. Allie says, "Your heart tells you. You're dealing with people, you're dealing with vulnerable people and they are trusting you to take care of them. So I think, to prepare yourself, there is all kinds of things you can learn. You can learn about disease processes, you can learn about geriatric, you can learn about being human and being in the moment, but a lot of that is a life lesson. So this kind of job, is just about being true and being open to possibilities and knowing life isn't black and white and knowing that you might have a plan for the day and it may not work out and you just have to go with the flow."
Jackie Kopniske also added that Allie Zabrosky runs all the activities in the building such as making maple syrup and just enriching the lives of those around her. Her line of work requires you to be very trusting and open since you are dealing with very vulnerable people. Being a true and caring person really helps her to do her job effectively.
---
By Ramandeep Kaur
We were also able to get a glimpse of Susan Krupitzer's job as the Executive Director/Managing Partner at Vista Springs Macedonia. She explains the full of life mission at Vista Springs in which Vista Springs makes sure to provide the social aspect and wellbeing in all dynamics including clean apartments, allowing options in their food choices, engaging activities, and the clinical department which provides the activities of daily living. Kruptizer goes into detail of her journey at Vista Springs that started before Vista Springs had even opened up. Kruptizer had always wanted to be a nurse which led her to nursing school but it wasn't for her, however once she changed her career path to gerontology and becoming a nursing home administrator she had success and it has led her into being in the industry for 20+ years. Krupitzer has worked in various positions including subsidized senior housing, managing a home health care company, long term care, and many more. All these jobs merged together molding Krupitzer's job as an executive director.
---
By McKenzie Allen
Michael Valore is the Head Chef and Culinary Services Director at Vista Springs Macedonia. He orchestrates all events including food there. He never expected to be a chef, when he was younger he had planned on going to school for music production, but eventually, after years of working for small restaurants, he realized his true passion: cooking. He pointed out that "it's hot in the kitchen," and that, "it's not the glamour tv always makes it sometimes." But, he expressed that he "couldn't imagine doing anything else," and that he "loves it." During his time at Vista Springs, he has even won some awards including a chili cook off, a soup cook off, and chef of the year. It is refreshing to see someone who loves their job and is good at it, right here, in our own community.
More about Vista Springs Macedonia
Vista Springs Macedonia offers senior living in Macedonia, Ohio, that evokes the atmosphere of a resort for your loved one. At our community, Mom can gather with friends at the Vibe Cafe, enjoy a manicure and perm from our upscale salon, or relax in her spacious apartment—whatever suits her fancy. From the smallest touch to the most personalized care, our goal is to ensure your loved one's days are Full of Life. Take a look at our resort-style community in our photo gallery.
---
These students are a part of a new afterschool club at Nordonia High School – Digital Journalism and Sports Broadcasting.
Lead by President of NordoniaHills.News, Julie D'Aloiso, students can write articles, shoot video, take pictures, and starting this spring, the students can help broadcast spring sports at Nordonia High School. Students can learn and do what interests them while they are still in high school. For more information on this afterschool club, contact Julie D'Aloiso at juliedaloiso@gmail.com or call 216-534-7467. Here is another video interview they produced!