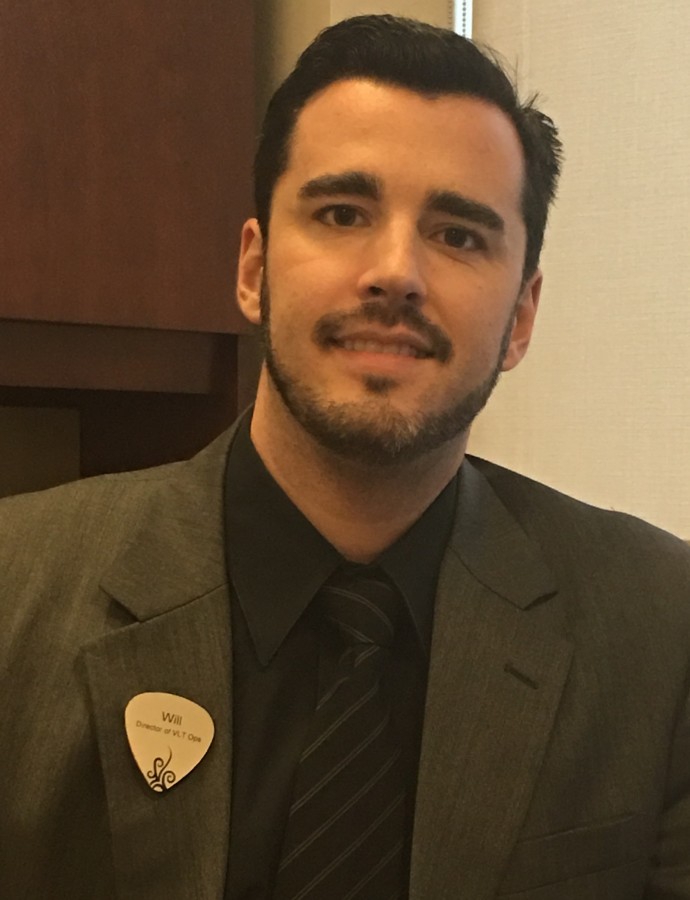 NORTHFIELD, OH, Oct. 3, 2018–Hard Rock Rocksino Northfield Park today announced that Will Provance, Director, Video Lottery Terminals is one of the Emerging Leaders of Gaming (ELG) and Global Gaming Business magazine (GGB) 2018-19 class of the "ELG 40 Under 40," which recognizes gaming industry professionals under the age of 40 already making significant impacts on the casino gaming industry — representing  a slice of today's next generation leaders and seeks to offer these young professionals an extra advantage in the already competitive gaming, entertainment, leisure and hospitality industries.
"The ELG program has become the most important vehicle for recognition of young leaders in the gaming industry," said Roger Gros, publisher of GGB magazine. "With nominations up nearly 50% year-over-year, the list was difficult to narrow. It's a testament to the bright future of the industry how competitive the process has become."
"As Director of VLT Operations at the Hard Rock Rocksino, Will has effectively managed the operational needs of a 2,300 game floor to ensure both competitiveness and performance," says Mark Birtha, President, Hard Rock Rocksino Northfield Park.  "At the same time, he is also diligent on ensuring guest service is a continued focus and team member satisfaction is a heightened priority.  The results of his efforts have helped contribute to the Rocksino's success of being the largest gaming revenue producer in the state of Ohio."
The "ELG 40 Under 40" are selected by a combined GGB and TIG advisory board from nominations solicited through an open call to the industry. Honorees will be celebrated during the annual ELG Cocktail Event during Global Gaming Expo (G2E) on Wednesday, October 10 from 5:00 – 6:30 p.m. at SUSHISAMBA Las Vegas in The Palazzo Las Vegas.
###
About ELG: Emerging Leaders of Gaming has established itself as the go-to network for young professionals assuming the next generation of leadership in gaming, entertainment, hospitality, food and beverage, tourism, and leisure. We continue to support the growth and development of these rising stars as they achieve their fast-track to success, destined to fill tomorrow's senior-level and C-suite management positions.
About GGB: Global Gaming Business magazine, a division of Casino Connection International, is the leading monthly gaming trade publication focusing on the international casino industry. Distributed to 14,000 of the industry's most important executives around the world, as well as public officials, regulators, attorneys and Native American governments, GGB magazine is the casino industry's complete source for business information.
About Hard Rock Rocksino Northfield Park:
Hard Rock Rocksino Northfield Park is Ohio's award-winning gaming, dining, and entertainment destination, located on the Northfield Park harness racing grounds, which offers more than 200 live harness races each year. True to Cleveland's musical history as a birthplace of rock 'n' roll, the Rocksino offers the legendary vibe of the Hard Rock brand, including more than 2,300 gaming devices offered both inside and outside, varied dining options and unparalleled live music events. The Hard Rock Live music venue, the fifth of its kind, hosts sell-out crowds of up to 2,100 guests for live entertainment by renowned musicians, in addition to hosting guests for a variety of functions and banquets. Hard Rock fans enjoy phenomenal dining at the world-famous Hard Rock Cafe; Kosar's Wood-Fired Grill, football legend Bernie Kosar's finest steakhouse; Concerto Italian Kitchen, a fast-casual restaurant, featuring personal pizzas, creative pasta dishes, gelato, and more; Fresh Harvest, an endless buffet with seven action stations; and Constant Grind, a bistro with sandwiches, sweets and more. In addition, the Rocksino offers a Rock Shop with famed Hard Rock merchandise to take home memories of the Rocksino experience, as well as a 350-seat live venue, Club Velvet, features comedians and illusion acts, dance parties, special events and is also readily available for private parties and events. As a focal point for the Center Bar leading into Hard Rock Cafe, Van Halen's red hot motorcycle makes "everybody want some" as one of many "arena rock" pieces from Hard Rock's unmatched, priceless memorabilia collection at the Rocksino.  On October 18, 2017, the Rocksino opened ROCKSTOP GAS & WASH, a new Hard Rock branded and first of its kind, state-of-the-art gas service station and car wash. For more information about Hard Rock Rocksino Northfield Park, please visit www.hrrnp.com.