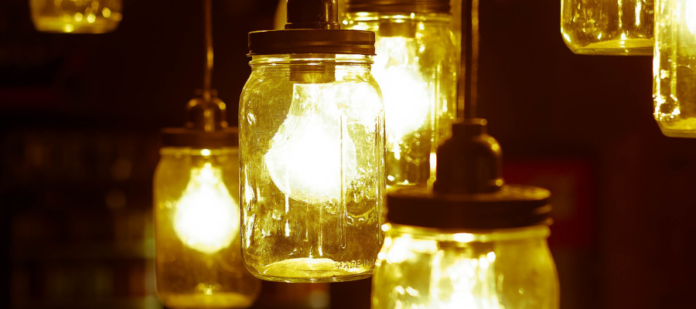 Summer is here! Say hello to longer days, warm sunshine, and blue skies. Summer is also the perfect time to get started a on a new project. Whether you want to switch up your home décor or gift a new blanket to a friend, check out these five awesome summer crafting projects for adults.
1. Spool Monogram
Monograms are still all the rage, and we bet that you've never seen a piece of wall decor quite like this one. This craft is the perfect way to use the empty sewing spools that have been lying idle in your craft bin. First, pick your letter—or letters, if you're feeling ambitious—and cut out the shape of the letter from a thick piece of cardboard. You can use an online template if you wish. Then, glue your colorful leftover spools to the cardboard for a unique monogram craft. There you have it—the perfect touch to your home.
2. Watering Can Vase
Festive flowers and summer go hand in hand. This year, add an even more beautiful touch to your front porch with a cute watering can vase. Shop at your local thrift store or purchase a vintage watering can online, then paint it whatever color you prefer. Fill up the can with water—or soil, if you'd rather create a planter instead of a vase—and add fresh flowers. Loop wire around the handle and hang it from a nail, creating a beautiful piece for your porch.
3. Festive Placemats
For the summer holidays, spruce up your tables with some cute festive placemats. This summer craft requires a red and white striped fabric, some denim, and some white yarn. Cut a 15×11-inch rectangle from the striped fabric and a 6×5-inch rectangle from the denim. Use a disappearing pen to trace a star on the denim fabric, then use a needle to sew the white yarn onto the outline. To finish off the project, sew the denim to the top corner of the striped rectangle or use an iron-on adhesive.
4. Recycled Wine Bottle Torch
If you love wine and have a gorgeous bottle on hand, think about creating a wine bottle torch this summer. This project transforms an everyday bottle into a chic backyard tiki torch. This craft takes a bit more handiwork, but the end results are just stunning. Find more directions for the craft here.
5. Mason Jar Lights
Add a beautiful ambiance to your backyard with these gorgeous mason jar lights. You can create the hanging votives for your home in four quick steps and just about an hour. Pick up your favorite colored mason jars, an embroidery thread set, superglue, and a small bundle of heavy-duty white suede. Find the directions to these simple and marvelous mood lights here.