Wayne Newton is Up Close and Personal at the Hard Rock Rocksino Northfield Park on Saturday, March 25th
By: Felicia Naoum, Reporter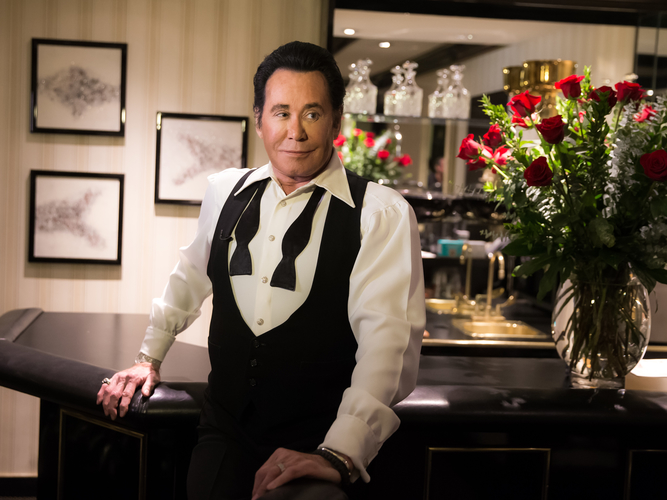 Photo credit: Erik Kabik
The meaning behind Vegas's Leading Man
Northfield, Ohio — The year was 1959 when a then 15-year-old Wayne Newton officially came to Las Vegas, Nevada to share his talents with the world. Fifty-eight years later, Wayne is far beyond sustaining his role as an entertainer, while still spreading the same joy that brought him into the entertainment business, to fans everywhere.
Wayne, a native of Virginia, was 4-years-old when he discovered his true desire for show business. Wayne's parents took him to a traveling Grand Ole Opry show in his hometown. When the audience applauded, Wayne paid great attention, at 4-years-old, to how the audience members reacted to the performance. Wayne then turned to his mother and said, "That's what I want to do." Wayne not only did "it", he surpassed expectations and the rest truly is history.
Wayne didn't want to do this for the fame or fortune, even though he has reached great heights over several decades. He's still as humble as any man who loves to browse the aisle of Home Depot (his favorite store) and care for his horses at home while wearing jeans and a t-shirt on a hot sunny day. And, as real as any person, to admit that fame and fortune are not his priorities: I'd probably be on the street corner with a cup because I love it. I do it because I love doing what I'm doing. I never do this because I'm getting paid to do it; I take none of this for granted," emphasized Wayne.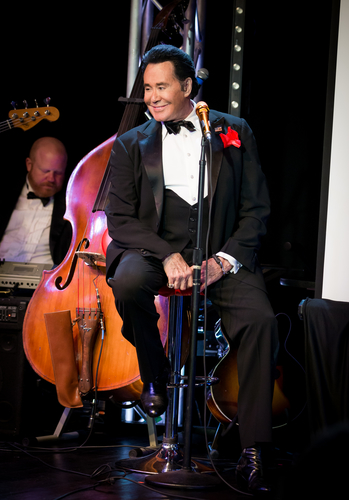 Photo credit: Erik Kabik
Wayne may be Las Vegas's leading man, but the only factor leading Wayne is the joy he brings you. "I saw the happiness of the crowd; I want to bring that same kind of happiness to people (reflecting back to the Grand Ole Opry show he saw at 4-years-old). That has been my motivating force my entire life and is still the motivating force to this day," added Wayne. Wayne has certainly brought happiness to people everywhere. Wayne's talents have reached generations of people all over the world. Perhaps it is Wayne's genuine intentions and humble beginnings that contribute to his longevity today.
Even as I mentioned to Wayne how much of an honor it was to interview him, a living legend, he expressed nothing short of gratitude and thankfulness.
"To become known or successful was never something that motivated me much. Mine wasn't because I wanted to be famous or recognized. Every time I'm paid a compliment, like you just paid me, it's a wonderful feeling, but not one that I dwell on. I think the humility is really important, but more than that, it's being true to myself," conveyed Wayne.
Not only is Wayne true to himself, he is true to his fans, too.
Wayne Newton may lead Las Vegas, but his fans lead him

I asked Wayne if the classics will be played at his show. "I'm gonna go as far back as they want," assured Wayne. So, if you're ready for those classic hits, I'm almost certain you will hear them. All you have to do is request them! Wayne will happily take you back to the beginning – to the early sixties with hits like "Danke Schoen" and "Red Roses for a Blue Lady" and even to the early seventies, with his chart topper, "Daddy Don't You Walk So Fast" (my personal favorite). Wayne allows each show to be as unique as the audience enjoying it. "I've always based my shows on what it is the people want to hear. There wouldn't be a Wayne Newton without the people who want to see me," shared Wayne.
And what would the entertainment world be without Wayne Newton? Let's not even ponder that.
Wayne will bring you the phenomenal hits that we all know and love, but you will also receive a more intimate experience. "I thought it might be fun to write a show that is more up close and personal. I can talk to people and they can talk to me," included Wayne.
Who doesn't want a night to talk to Wayne? I can tell you from experience that you do! He is beyond delightful.
So, that's right folks, you may leave questions for Wayne before the show begins! If you've ever wanted to ask Wayne anything, now is your chance! Wayne has granted you permission to shall we say…get a little personal. "Are there any questions that you want to ask Wayne Newton? We don't care how personal it is," said Wayne himself!
And rest assured it will be a good show! Wayne's update on his latest tour: "It has just gone through the roof!"
Get ready to bring down that roof with Wayne Vegas style. Classic style. The original-leading-man-of-Vegas-style.
You don't have to fly out west to see this living legend. Hard Rock Rocksino Northfield Park has brought him to you on Saturday, March 25th 2017.
While you wait, enjoy a little extra from Wayne. Think of it as a warm-up to the night of classic hits and conversation with the one and only Wayne Newton.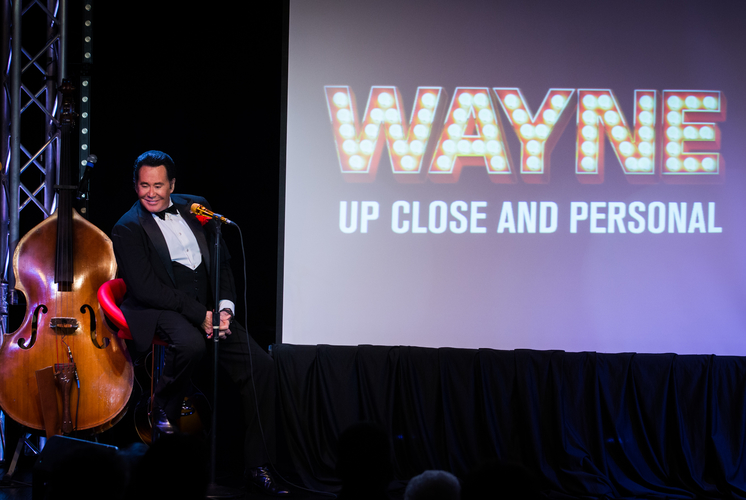 Photo credit: Erik Kabik
A little extra for the die-hard Newton Fans
Wayne at Home
Some may be surprised to know that Wayne Newton, one of the biggest names in show business, is no different than you and I. He has hobbies just as the rest of us do. Notably, many fans may be aware of his love for horses that he often speaks passionately about. On most typical days, it is just Wayne and his horses. "As long as I stay behind the walls" as Wayne put it, it's a blue jeans, shorts and a t-shirt kind-of-day. "I work with the horses. If it's really hot, I'll go out and water ski. I'm also a helicopter pilot."
And if Wayne has to step out into the world, that's okay, too. He's willing to meet you "out there".
Wayne doesn't view his life in the public eye as that of annoyance. In fact, his great stardom doesn't prevent him from hitting that favorite store of his, Home Depot. "If I go out of those gates, I'm very well aware that I belong to the people. I love to go to Home Depot and walk the isle and mess around at home. Usually, my wife has to bring in a professional to fix up what I mess up."
Yes, folks, even Wayne Newton needs a little help in the plumbing isle. When I said he was humble and down-to-earth, I meant it.
Whether it's performing in the big leagues, browsing Home Depot, or giving a little advice here and there, Wayne has it covered.
We spoke about dreams, too. Everyone's dreams.
Wayne's advice for everyone with a dream
Wayne has certainly conquered his dreams tenfold. Here's advice from a man who has made it happen and is humbly willing to pass along what he learned. Thanks, Wayne.
Take note.
"Oh God, I think it falls into two categories (on dreams): number one, don't let anybody compromise you in your dreams. Give it a shot; the last thing in the world you want to do is be sitting on a rocking chair, on a porch, saying I wish I had," affirmed Wayne.
Don't spend time wishing. Start doing. Your focus is everything.
"The only advice I ever give younger performers —- I tell them the same thing, your ability to be happy and successful depends totally and completely on your ability to adjust. You must be disciplined; I don't know anybody who is a success at anything that does not have discipline," added Wayne.
Remember, too, that your fame or praise are not even close to being everything. It's easy for us to think of glamour and fortune when we imagine Wayne Newton. However, some of the truest words I've ever received in an interview came from him – one of the most accomplished and sensational entertainment acts – keeps it as real as it gets.
"I realized very early on that being on TV and having hit records was just a prelude for being able to walk on stage and entertain; it's just a stepping stone, it's not your reason to exist. It's the ability to have that record sound like the same recording that people listen to; it's the substance."
Wayne Newton is the epitome of substance. His success represents his substance. It's old-school. It's real. It's record breaking.
His spirit ties it all together. Wayne Newton, who he is at his core, I learned, is substance.
And even Wayne had his setbacks, too.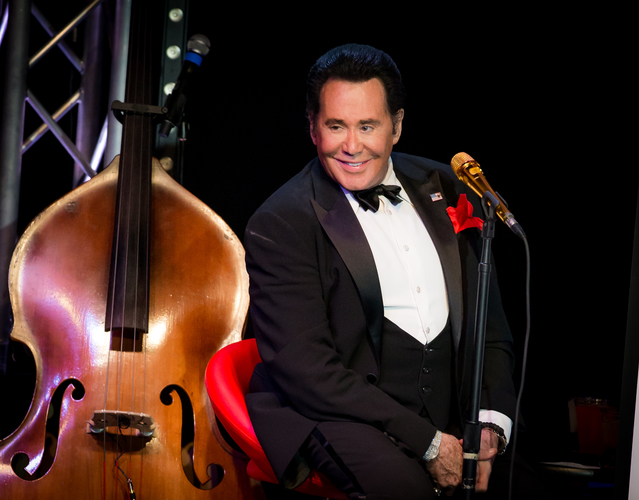 Photo credit: Erik Kabik
Wayne and Elvis learned from failure
Wayne mentioned the King of Rock 'N' Roll and I just had to ask further.
"What was Elvis like?"
Wayne responded with, "Elvis was the most down-to-earth guy I ever met."
Interestingly enough, Wayne's relationship with Elvis collates with the aforementioned topic of making your dreams come true. "Elvis and I were talking (we) both flunked the Ted Mack Amateur Hour. Instead of being totally rejected by that, we said, "Okay that's not working. Maybe I better rethink what I'm doing. It (the failure) became a motivating force."
Wayne and Elvis learned from their failures. So, don't give up too easily, friends.
When Wayne first spoke to me, he was a breath of fresh air. Even on my not-so-great days, I carry his spirit (through our interview) with me. He is just that refreshing.
Being a part of his Up Close and Personal show at the Hard Rock Rocksino Northfield Park will be well worth your time. He's a magical performer, and a magical person. I hope everyone has the privilege of his company, in some capacity, as I did.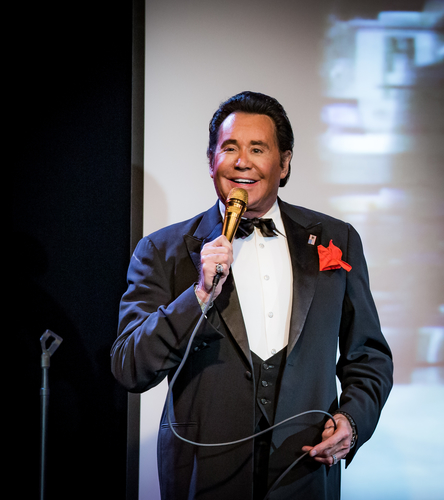 Photo credit: Erik Kabik
Save