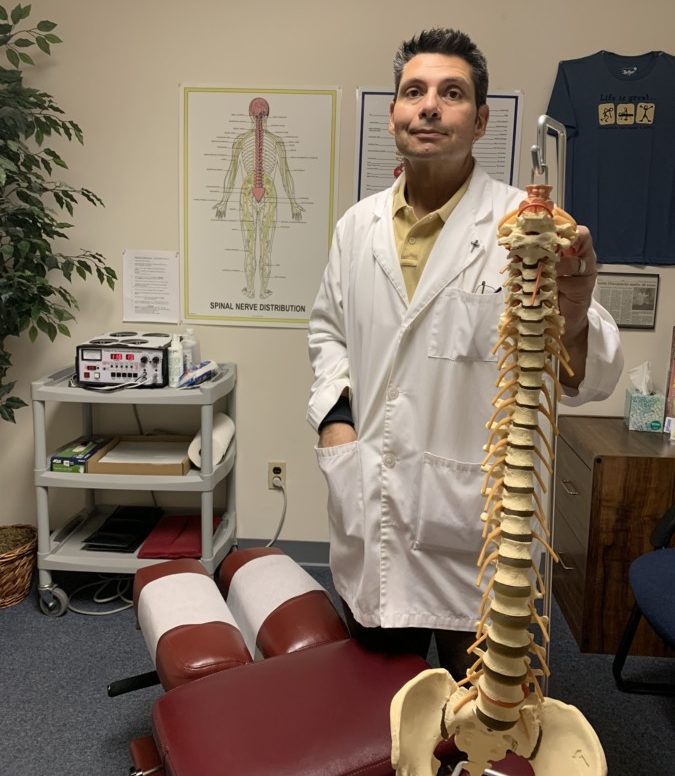 What type of education did you need?
I am a Nordonia High grad and continue to live in and support the local community. After high school I attended Kent State taking Pre-Med coursework. After that I chose to attend Palmer College of Chiropractic in Davenport, Iowa. Palmer is the 1st and largest chiropractic college in the world. It is also where chiropractic was founded in 1895. The program is intense, consisting of 5 years, with the last year being spent in residency seeing patients, while taking a few classes.
How long have you been in practice?
Overall I have been in practice for 26 years – I can't believe it's been that long!
I graduated in 1993 and after passing the Ohio State board exam, I began practice as an associate doctor in Independence, Ohio. In 1997 I opened my own office in Northfield Center under the name All- Health Chiropractic. This is because chiropractic successfully treats many different conditions without using drugs or surgery and helps people live a healthier life.
What is the number one thing people come in for?
The most common conditions people come to our office for are: Neck Pain and Low Back Pain. We also see many patients for treatment of headaches, sciatica and sports injuries and even women during their pregnancy, which helps relieve back pain and makes their labor go easier.
What is the number on mistake people make in regards to chiropractic care?Without a doubt people think that chiropractic care is only for someone who is in pain. While it is definitely fantastic at helping people feel better, anyone can receive chiropractic treatment at any time. It's a Proactive, All Natural treatment to help the body stay healthy. Think of it this way, it's like going to the dentist to prevent tooth decay. When you go to the chiropractor for periodic adjustments, it helps prevent spinal problems like arthritis and degenerative discs.
Are chiropractic visits covered by most insurance?
Yes, chiropractic is widely accepted as a primary form of health care and almost all insurance covers chiropractic treatment. It has also been proven to be one of the most affordable forms
Do you accept New Patients?
Of course we do, our office slogan is that we want to help people "Live Better and Feel Better … Naturally!" If someone wants to schedule an appointment, just contact our office at (330) 468-2555. I would also suggest that you check out our website: AllHealthChiroDoc.com. It's filled with a lot of helpful information. You can read about various conditions that I help treat on a daily basis. Just scroll over the "Conditions" tab and click on one that interests you. You can also click on the Patient Testimonies tab and read about some of the fantastic results that I have been blessed to experience. They really are wonderful stories and the reason that I enjoy helping others.
Click the green arrow to listen to the podcast where Dr. John talks about his local ties to the area and how he got started in Chiropractic Care.
Location: All-Health Chiropractic
9425 Olde Eight Rd. #1 (see map below)
Northfield, Ohio 44067
T: (330) 468-2555 F: (330) 468-5225
E-mail: info@AllHealthChiroDoc.com
Website: AllHealthChiroDoc.com