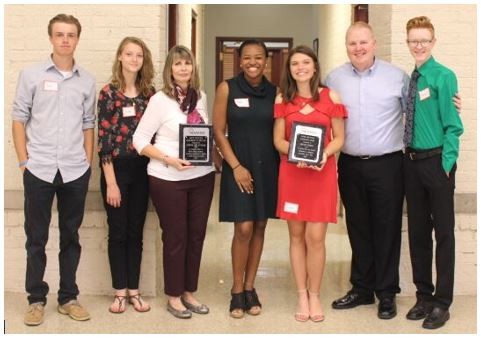 On October 8, 2017, ADAPAO (Alcohol and Drug Abuse Prevention Association of Ohio) recognized the Teen Institute at Nordonia High School. Under the direction of TI Advisor, Regina Christy, the Nordonia Teen Institute was awarded the ADAPAO Youth Prevention Organization of the Year for its exemplary efforts in advancing the mission of ADAPAO by an agency, coalition, board, business, task force or other organization. Regina Christy accepted this well-deserved award on behalf of all TI members, current and past, and all who have assisted Nordonia TI over the years.
Nordonia TI member, Delaney Monroe, was also recognized by ADAPAO. The ADAPAO Youth Prevention Award honors excellence in and commitment to prevention in Ohio among young people in our state. Delaney was the recipient of this year's 2017 ADAPAO Youth Prevention Award, an award given for her exemplary efforts to advance youth prevention in our community and around the state of Ohio.
Congratulations Regina, Delaney, and all of Nordonia Teen Institute.