Everything old is new again." –Billy Donato on Vintage Vegas with a Modern Twist
By: Felicia Naoum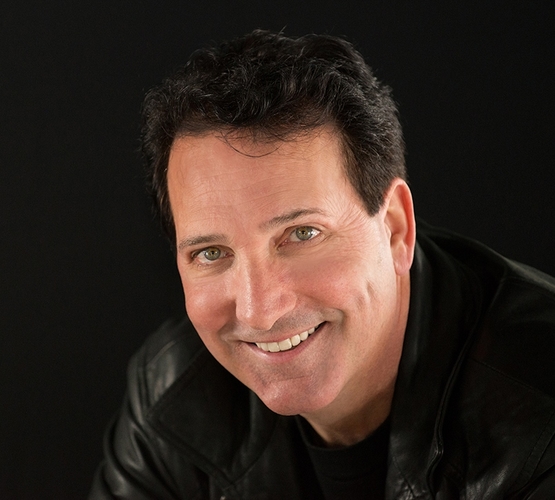 Northfield, Ohio —  A multi-talented Cleveland native has checked performing in Vegas off of his bucket list. Now, he's about to check off his hometown of Cleveland, Ohio, too. See, Billy Donato not only checked Vegas off, he lit it up, literally, as  "Billy Donato" gleamed brightly from the famous Tropicana marquee that in turn lights up the entertainment capital of the world – Las Vegas, Nevada. This Clevelander is no stranger to performing in the big leagues, including Caesars Palace.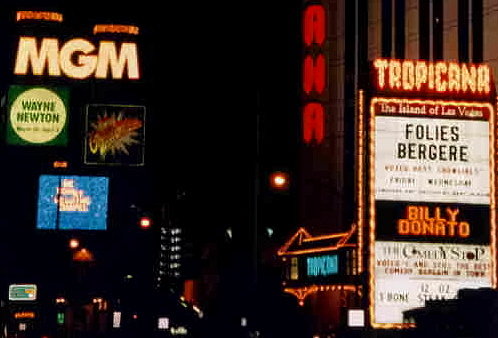 Billy Donato's name on the Tropicana marquee in Las Vegas
Donato, a big star from an everyday town has made huge leaps and bounds to bigger places. Now, he has returned home to the City of Rock 'N' Roll and is more ready than ever to bring you his talents, and something more.
Billy Donato is filled with a competitive nature that thrives on pressure, natural show business talents and perseverance.  All of which brought him to where he is today along with his notable coach, David Morganstern, whom he studied under for 10 years. David told Billy he would perform in Vegas one day and he did.
Billy grew up with entertainment fever. His father was a math teacher by day and a singer and drummer by night. Entertaining you was pumping in Billy's blood since his formative years and he is beyond thankful to finally perform where it all began.  "I've been waiting for years to have this opportunity in my hometown," said Billy.
However, folks, I can guarantee you that there is one attribute bigger than Billy's performance. His heart.
Attend the Hard Rock Rocksino Northfield Park's astonishing Club Velvet on Friday, February 24th or Saturday, February 25th to witness a heartfelt, and original performance.
The show will sweep you off of your feet, but the connection, the interaction and the message will certainly make you a fan of Mr. Donato's if you haven't already had the privilege to be one.
Billy's show is called Vintage Vegas with a Modern Twist. I call it Vintage Vegas with a Modern Twist and So Much More.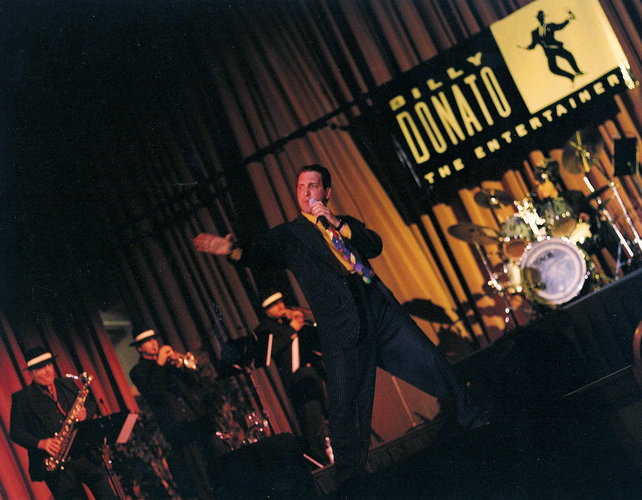 Billy Donato performing Caesars Palace in Las Vegas, Nevada
Here' why:
Billy doesn't just offer you a show to attend. He takes you on an escape. Your concerns are left at the door. When Billy takes the stage, he delivers not only a performance but a place for you to be you, regardless of who you are, and a place to let go.
"I can take people away for one minute or an hour- from their mental and physical woes – I can take them away."
Life can be tough, right?  Billy puts your everyday worries on hold with his presence and updated versions of vintage music.
If you can't fly to Vegas to get your taste of the big city, then you can meet him at the Hard Rock Rocksino for not only your real and genuine Vegas experience as he described himself, but to see one of Cleveland's own, a true hometown man, take you to places you may have never been before – places of emotional depth, excitement, and perhaps a time travel to back in the day with that modern spin that makes you still appreciate today. And the setting counts, too. Billy wanted a closeness to be established with his audience and that's what the Hard Rock does.
Just as show business is the perfect fit for Billy, the Hard Rock's Club Velvet is the perfect fit for Billy's performance. "Not only did I grow up 5 or 10 minutes from there. Club Velvet was perfect for my show. I need access to my audience and the audience needs access to my show."
This show will be intimate. You could be sitting in the last row, but Billy's overwhelming passion to be connected to you won't allow you to feel so far away.
Through Billy's performance, he wants to make you feel not only connected but better. His music takes on a level of peace and healing. Because for Billy, even a bad day is a good day. How great is that?Music and performing are Billy's meditation, now allow them to be yours.  When you arrive at the Hard Rock for the main event, the performance, you will enjoy a heaping taste of tranquility on the side.
"I believe it is a healer, no matter what your woes are – physical or mental – the adrenaline, the endorphins that kick in. I could be having maybe not the best day, but that doesn't matter, once I start performing, everything changes," explained Billy.
And he couldn't do it without you…
Billy's driving force: His audience 
Billy's show was created by the fans and is for the fans. The fans spoke and he listened. "From the outside in – from the cruise ships, it's what the audiences requested and wanted – that's how my show was developed," shared Billy.
You know what's even better? The spontaneity that Billy offers his fans. None of his audience interactions are rehearsed which attributes to his realness. Billy wants each of his shows to be unique to his specific audience. The sky truly is the limit when you're in Billy's company. But fear not, because as Billy said, he treats you like his family and friends.  Billy said it perfectly: "It's like I'm a throwing a party at my home and I'm the host.  It's no different when I'm on stage performing than when I'm with my family and friends."
Along with surprises, you will receive a quality delivery which is Billy's sound. Billy will perform songs that have been produced with a live orchestra in a studio. He has a custom made sound system which includes no sound drop off and virtual surround sound. To Billy, "A performer is only as good as what the audience hears."  Billy adds, "Whether I have no musicians or one hundred behind me, it's a real show."
It doesn't get more real than this:
It doesn't matter who you are or what your musical preferences consist of, Billy will make you happy. In fact, his demographic is "the planet earth" as he said. Billy has something for everyone. "My show is open. My show goes beyond any barriers. There are no racial barriers, age barriers, language barrier.  No matter what type of music someone likes, they will love my show. It's open to everybody. I'm not competing with anyone. I have my own niche – a tremendous amount of energy in my show. People will laugh, will cry, and will dance.  It's an experience."
We know his shows are unpredictable, which leaves the audience on the edge of their seats. At Billy's show, you won't know what to expect next, but you will anticipate more of it because it's really just a sweet treat with many layers.  "A lot of things are going to surprise people. Billy will not be standing over a microphone when he delivers his musical package of sounds including  Rat Pack, Motown, Doo-Wop, Rock 'N' Roll, country, and swing. He will be all over the stage, and maybe where you are, too!  "It all has a beautiful flow to it," uttered Billy." You will enjoy your experience and don't forget to enjoy the cherry on top, too. Cherry on top you may ask? Yes, a sweet, sweet cherry to top it all off…
The cherry on top
The personal touches. Every party needs a personal touch.  "My sister, my mom, and my dad have all recently passed since the first show. They won't be in the audience. I'm going to do a tribute to my mom, dad, and sister.  This tribute will include 8-foot screens and Billy's mom's favorite song – "The Dance" by Garth Brooks. Unfortunately, both of Billy's parents passed away from pancreatic cancer. When each one was sick, Billy stopped his career to move home and give them 24-hour care.  Billy's name may have lit up the marquee in Vegas, but his heart will land him right back home to Cleveland when his loved ones need him. Billy loves the bright lights of the entertainment capital that he deems is a culture in and of its own and one that everyone should experience at least once in their life, but his roots are in Cleveland and so is that big ol' heart of his, big enough to light up anywhere he is including all of his past performances at benefits, autism speaks and wounded warriors events. He's more than a Vegas showman, he's a community man, a family man, an everyday happy-go-lucky man.
Billy on chasing your dreams:
I always ask those who my stories are about to share advice to others with a dream. Billy was more than happy to give those out there a little bit of hope. He points out that it is okay to fail, in fact we need to embrace the failure. Additionally, he wants you to have no regrets, to try everything your heart is set on. Billy tried, he tried hard. He didn't give up. If you need proof that dreams come true, that your average 20 year-old baseball athlete could leave his hometown for those bright and we know how bright they are, lights of Vegas, then you can, too. Take it from Billy himself:
People told me I couldn't do it. They laughed at me when I said that's what I wanted to do."  – Billy Donato on chasing his dreams
"Everyone has dreams. Some people keep them to themselves and never tell anyone. Some people keep it as a dream versus having no idea that that dream could become reality. If people had the mindset that dreams could become reality, what's the worst that could happen? Sometimes, we try our best and we just can't accomplish it. But that's' okay because you never have to wonder should have, could have, would have. Instead of staying down, we learn and experience from those failures and that's what keeps us going."
Billy on his legacy:
It's all about the love.
"I love life, I love people, I love family and friends; that's what life is all about. No matter how good we are, you can never do it alone or by yourself."
Billy quoted a famous singer who graced the world with his talents prior to him, Dean Martin.
"That's why Dean Martin said, 'everybody loves somebody"'.
Love you ask?
"That's part of life; that's key.  That's what keeps the world going.
Whether it's someone reading an article, or leaving a show, I want them to leave with joy –  to feel that wonder – that's the goal."
When you visit Hard Rock Rocksino February 24th or 25th, you will feel that love.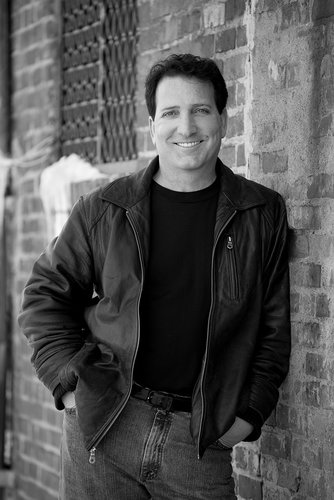 Photos courtesy of family and friends
Save
Save