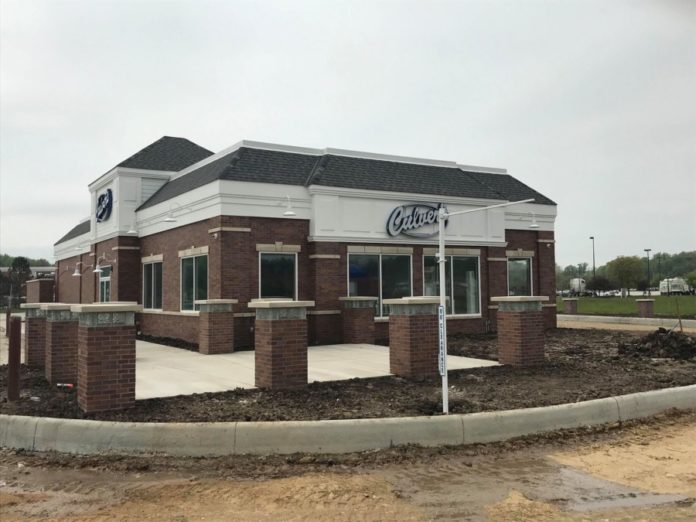 By Julie D'Aloiso
I talked with Steve Skomski who is the owner of Culver's Macedonia. He is all set to open Monday June 3rd at 10:00am and you are invited!
Let's start with the burgers, because that is what everyone is talking about. The burgers are made fresh, with never frozen beef, on a butter toasted bun. According to Steve, the Double ButterBurger is his favorite. But you can choose a Single or Triple too, and they will build it just for you. In fact they do not sear the burger until you place your order. Some people refer to them as "Chin Drippers!"
You can order the works which has ketchup, mustard, pickle and onion.
The deluxe has mayonnaise, lettuce, pickle, onion, tomato and cheese.
A lot of people customize their order. You can also choose toppings such as mushrooms and bacon. More ButterBurger info here.
It was the Culver's ButterBurger that caught Steve's attention. His friend worked at a Culver's in Michigan and Steve decided to help him out. He fell in love with the ButterBurger and everything that goes with it. He decided to look into having one of his own. He picked Northeast Ohio because it is a great location. There are other Culver's in Ohio in Dayton and Columbus area, and Avon. There are about 700 locations in total.
Steve is no stranger to food, he has been a chef for years, working at country clubs and hotels. Recently he has been a Chef at Nestle for approx. 7 years.
Steve's wife Jennifer has worked for Pepsi for many years and will help Steve get things started. They actually met thru Steve's work at Nestle.
Getting back to the menu, you will find many new favorites.
The Fresh Frozen Custard is made fresh throughout the day. You can choose from vanilla, chocolate or the flavor of the day. And they have toppings galore! See more here if you dare.
If you are not quite into ice cream, they have shakes, malts and floats or try the lemon ice.
On the menu you can find chicken sandwiches, chicken tenders, fish, soups, mashed potatoes, and remember everything is fresh and made to order and never frozen. You can even order a customized salad. There is a veggie burger not on the menu but you can tell them to make you one!
On the kids menu you will find corn dog, grilled cheese, chicken tenders and of course ButterBurgers!
Avon's grand opening last year was Culver's best one so far. I say let's beat that!