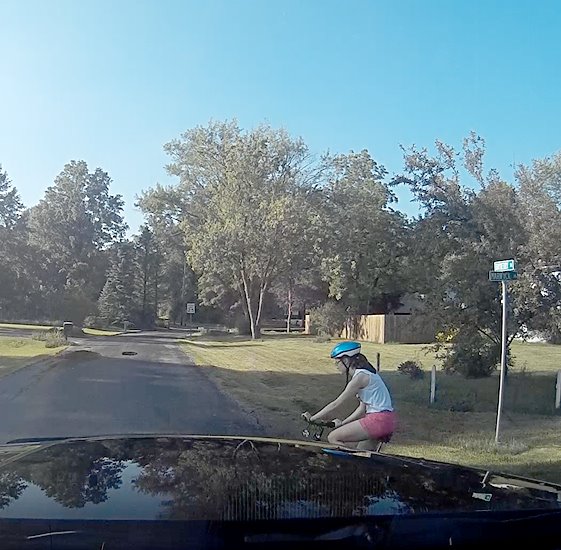 YOUR INFORMATION NEWSLETTER FROM
NORTHFIELD CENTER TOWNSHIP TRUSTEE
PAUL G. BUESCHER
~ KEEPING NCT RESIDENTS INFORMED SINCE 2005 ~
_________________________________________________
#532  MONDAY JUNE 18, 2018
_________________________________________________
RESPONSE TO SPEEDING SCHOOL BUSSES
Hi, Paul. Thank you for sharing the concern of the citizen who may have witnessed a bus speeding on his street. We will investigate. Please let your constituents know that if they ever have questions or concerns about school issues, they can reach me directly at 330-908-6202 or joe.clark@nordoniaschools.org.  Also, you should feel free to contact me at any time to corroborate statements about the schools being presented as fact. One of my team members or I will be able quickly to provide you with the information necessary to keep your constituents accurately informed. I would hate for us to inadvertently mislead the public. Thanks for the work you do, and have a great summer!
Joe Clark, Ph.D.
Superintendent
Nordonia Hills City Schools
[June 8, 2018]
MY RESPONSE:
Hi Joe.
Thank you for your response to the concern posted in my last newsletter from a resident involving a speeding school bus.  Your information is helpful and I encourage residents with similar future concerns to follow the suggestions that you gave.
I should also mention the fact that this incident, in addition to the complainant, was corroborated by an off duty law enforcement officer.  He stated to me, "I personally called the bus garage a few weeks ago on bus 10.  I was out in my yard and estimated it travelling at least 40 mph."  The original complaint was sent to me on May 16th, which would put it in the same time frame.  The officer also stated, "I recommend anyone having an issue call the board office with a bus number, driver description, time and location. We have excellent drivers that take care of our kids but those few exceptions should be addressed."
In conclusion, nothing was misleading and the facts were given and corroborated by a professional witness.  Since it is the end of the school year, the issue is actually a moot point but it should be remembered in August when school once again begins.  Safety for all is the main issue and I know that you are devoted to that.  Thank YOU for the work that you do and have a safe and relaxing summer!
Paul G. Buescher
THREE FEET FROM TRAGEDY!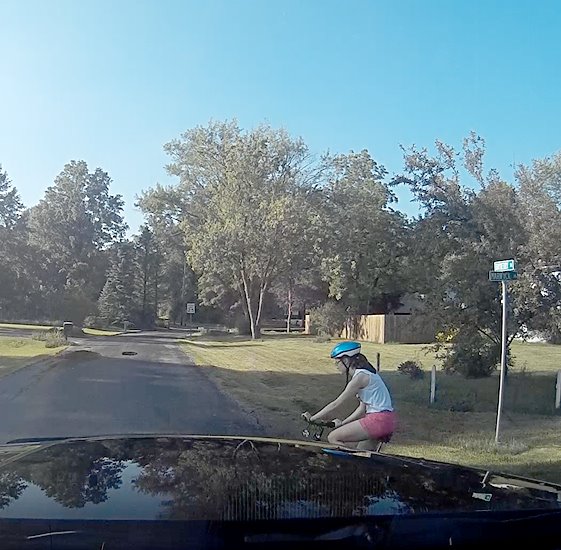 The above photo was obtained from a dashcam video showing a girl who almost got run over after blowing through a stop sign at Marwyck and Lowell in Northfield Center.  The video shows the driver coming to a complete stop and then beginning to accelerate when the girl appeared "out of nowhere" and was totally oblivious to the oncoming vehicle.  The driver hit the brakes with only three-feet from the girl.
About 20-seconds prior to this incident, the video also showed what appeared to be an older male (father?) 'flying' non-stop through the same stop sign!
I constantly hear complaints about careless drivers speeding and rolling through stop signs by folks saying, "someone is going to get killed."  While these complaints are certainly valid, there are many other complaints about those on bicycles doing the same thing as evidenced above.  Bicycle riders are required to obey the same laws as vehicles and parents need to remind their children and themselves about that fact!  A safety helmet will do nothing to help a child on a bike when consciously or unconsciously confronting a multi-ton vehicle!
PLEASE, talk with your children about traffic safety.  I never want to witness what that photo shows – Again.  That's right, the photo came from my dashcam one week ago!
IN CASE YOU MISSED IT
As many of you know, I've been writing and preaching about disaster and emergency preparedness for nearly 20 years.  WOIO TV-19's Dan DeRoos approached me to do a segment on the subject and I agreed.  You can view the segment that aired on May 23rd by visiting the following:
http://www.cleveland19.com/story/38262406/6-items-you-should-have-according-to-a-doomsday-prepper-in-northeast-ohio
QUESTIONS & ANSWERS
Q >>> – Hi Paul, can you tell me if the convicted Fire District Secretary has paid back any of the money she stole from the residents of Northfield Center and Sagamore? I also understand that the Sagamore trustees were going to go after her for more money than the original complaint. Have you heard anything about this?
A >>> – To the best of my knowledge, she has only paid back (through the court) around $900 since being convicted in January.  I heard the same thing about Sagamore and I know of people being interviewed on the subject by their Police Department.
Q >>> – Hi Paul, Have a question. While walking down the south side of 82 in front of Halberg law offices I encountered first a sewer grate that is tipped out of the hole and seems dangerous to me, maybe 9 or 10 inches. I have noticed it before and thought that it would happen eventually,but however does not seem safe. Then on my travels there was a dead deer, which is almost gone except for the bones mostly, still gross. Who should I call or is there anyone that can address this situation? I appreciate it.
A >>> – If the grate is truly a "sewer" grate then the responsibility falls with the D.O.S.S.S.  If it is a storm water grate then, since it is within an ODOT right-of-way, then it's their responsibility.  Our Township has no maintenance responsibilities along State Route 82.
Q >>> – Mr. Buescher, do you have any idea when the power company is going to remove that old telephone pole and associated mess in your front yard?  I know this is not your doing but it is disgusting to see that at the entrance to our nice development.  Can you do something about it?
A >>> –  First Energy put up a new pole in February of last year (2017) and moved their wires onto the new one and then cut off the top portion of the old one.  We then had to wait for Windstream and then Spectrum to move their cables on to the new one.  That was done earlier this year yet the old pole remained and despite several communications with First Energy, nothing happened.  A new manager took over and on June 13th, after another request, I received the following statement – "Our field supervisor inspected this location and said he will be able to remove this pole within the next week or so. Thank you for bringing this to my attention."
YOUR GENERAL COMMENTS
NOTE – If you would like your name to appear under your
Comments, please type the word "Signed" next to your name
 __________________________________________________
This is in response to a question in your last news letter regarding the property on the corner of Route 8 and Fairhaven Drive.  The writer wrote that "the neighborhood is bad enough".  While we agree to the condition of the mentioned property, please know that many homes in this neighborhood are well maintained, have been updated and lawns and yards are properly cared for.    We take pride in our homes and take offense to the insinuation of the writer.  Please don't label all of us.  We may not live in $500,000 homes , but this neighborhood is home to us having lived here for many years.  Every neighborhood has an eye sore, just walk on Bayberry and some of the other streets.  We see lawns that have not been mowed in a while and homes not kept up.  Just wanted to let you know how we felt.
 …………………………………………………….
Mr. Buescher, I want to thank you for your help in the past. I attended a re-zoning hearing last night for a "conditional" permit for a "bed and breakfast" across the street from me. I knew none of the panel (not trustees) and was permitted to speak – but only on the topic at hand.  The woman at the center of the "bed and bath" issue, Lisa, was ill-served by an appraiser that checked all boxes. Inspection of the home showed foundational damage and repairs that SHALL be made at a cost between 15 and 20 thousand dollars.  Lisa is the same lady that filled in her ditch at her own expense because the township refused to do it. Now there is talk that Northfield Center wants her to dig it back up and remove the pipe. Are we trying to run Lisa out of town? This is the type of family any neighborhood hopes to welcome. I have met a few of the people that stayed with Lisa. Good people. If I had any concerns about crime, drugs, sex trafficking, etc., I most certainly would speak up. Is this panel going to argue that they care more about my home and my development than I care? The decision had not been made before I left, but I left with the feeling that they were going to make the wrong decision…again. On the other matter, I was told that I could only address the "ditch" issue at the next trustee's meeting. I am hopeful that you will notify me concerning the date of that meeting. I have a story or two to tell about how and why I fell in love with this development and Northfield Center. I appreciate your time, once again, and the newsletter. Thank God the people of Northfield Center had the good sense to vote you back in. The decisions might not always go in my favor, but you have always been fair. I wish we had more like you "serving the community. Thanks again. I'll try not to complain so much in the future.
MY RESPONSE:
The BZA held a hearing on the "Bed and Breakfast" issue on June 7th.  The requested variance was denied.  This is not a permitted use and the BZA's decision cannot be changed by the Board of Trustees.
Lisa closed her ditch without permission from either the Township or the County.  There has been a long running moratorium on ditch closures and the few exceptions made concern safety and hardship reasons only.  Her ditch closure was not done properly and could actually add to flooding problems in the area.  If this is found to be the case, and since she has already been notified to open the closure, then the Township can, at any time, remove the pipes and bill her for all expenses.
________________________________________________
Thank you,
Paul G. Buescher
Northfield Center Twp. – Trustee
330-467-9451
This newsletter was produced through my 5-kilowatt SOLAR power system!