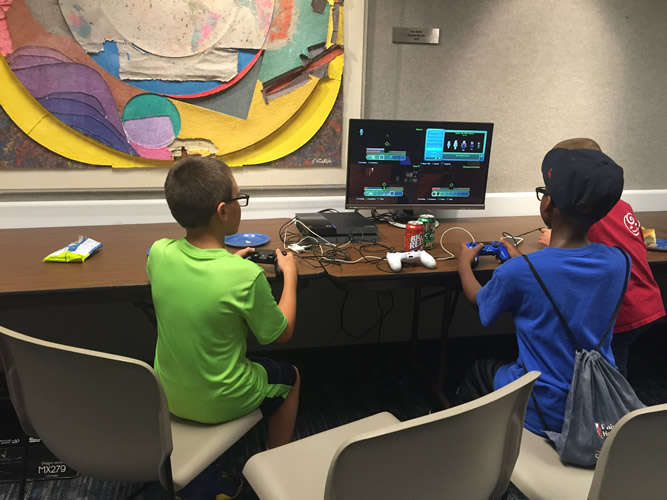 Learn how you can turn your passion into your reality AND touch the lives of many while doing so –
A conversation with Chris Hatala, Owner of GDL and former longtime resident of Macedonia, Ohio
By: Felicia Naoum
[dropcap color="#000000″]W[/dropcap]e all have fun things we enjoy, right? Perhaps it's binge watching our favorite show; trying a new recipe; riding the fastest roller coaster at an amusement park, or even video gaming! Video games have become more and more of an outlet for people.
 Colin Campbell at www.polygon.com shared these interesting stats in his article: Here's how many people are playing games in America below.
Here are 20 findings from "Essential Facts about the Computer and Video Game Industry, 2015, for which 4,000 American households were surveyed about their gaming habits and attitudes.
 Headline Stats
155 million Americans regularly play video games.
42 percent of Americans play for at least three hours per week.
Four out of five American households contain a device used to play video games.
Clearly, video gaming is a huge part of American culture. So many of us do it and do it often. An avid video gamer, since childhood, turned his hobby into his career. Video gaming isn't what Chris Halata does on his evening off or free weekend here and there. Video gaming is Chris's "9-5er". It's his job. And here's how it all began…
Youth is a time of great challenge. Fitting in with the crowd is a great part of that challenge. Chris knew that. He wasn't the most outgoing kid, or on all the sports teams. He was shy. Video gaming was his opportunity to put his shyness to rest and be who he is. Video gaming gave him the voice that he couldn't find outside of the console that steers his gaming ship.
Chris has used his passion for cultivating a business that inspires a mirage of situations: that wedding you've been dreaming about and are forever planning or that one student who is viewed as different because he has a disability yet outshines with his success. Chris has contributed to this and more. Chris has taken gaming to a whole new level – a level that is changing lives and making memorable memories.
FN: Please briefly describe (in a few sentences) what your gaming business is about? What is the goal of Games Done Legit (GDL)?
CH: Since the '70s, video games have been a huge part of culture worldwide. We use the video games people love (and now virtual reality) to create engaging special event entertainment and education.
FN: What gave you the idea to start GDL?
CH: When I was little, I was too shy to compete at sports, and video games provided a place for me to achieve, problem solve and test myself against kids older, bigger and stronger than me.

After competing nationally in gaming events and for seven years running what became an international video game championship, I realized that millions of people from all walks of life share a strong, personal attachment to video gaming.
GDL merges the professionalism of the special-events industry with the passion, skills, and knowledge of lifetime gamer! 
FN: How long have you been in business? Also, discuss your growth from inception until now.
CH: LLC'd for three years, fulltime for a bit over two.
I had never dreamed of starting a company, but I really believed in this idea of gaming entertainment as a career. So my biggest challenge has been learning the ins and outs of business: goal-setting, financial management, networking, and finding mentors.

Planning,  presenting and executing ideas that we know people will love is the easy part!
FN: What is the best part of being the owner of GDL?
CH: I think everyone deserves a chance to turn their passion into a career, and there's nothing I enjoy more than seeing smiles and excitement at our events.
It's so fun to see adults react to playing Donkey Kong or Mario Kart on big screens with cool lighting. Same for kids basking in the 10 console setups they'll be enjoying with their friends for the next few hours.
FN: Which types of events do GDL host?
Corporate holiday parties & team-building exercises, bar/bat mitzvahs, fundraisers, trade show entertainment, school functions, and even weddings!
FN: You mentioned being shy as a kid and used gaming to socialize and interact with children in a way – do you feel that GDL still does that today? Do you see more shy students thrive when you come into their school?
CH: For sure. At our first school event, a kid with Asperger's Syndrome won one of our video game tournaments. I feel like video games can be the best way to break up cliques in school at an age where so many other things "matter" to kids.
Video games can break down social barriers in a really unique way, I've found.
FN: That's fantastic!
FN: Elaborate, if you will, on the team-building exercises that GDL provides:
Building a team is a function of getting people to enjoy the roles they play while enjoying each others' company.
CH: Since the '70s, video games have impacted the people who grow up with them profoundly, and video gaming has finally been studied to assess the unique way the hobby engages and even educates us.
By using that nostalgic hook, we "trick" people into learning skills while having a fantastic time together!
FN: How cool is it that GDL operated at weddings! Describe that dynamic.
CH: Well, it seems that people want more and more fun at what were traditionally strictly formal events. People want to make what they love apart of the most important events of their lives.
If a couple has bonded over playing anything from Mario Kart, Zelda, or Mass Effect together (I know I have), we can translate that into a shared experience with their guests on a wedding day.
We can do anything from a few screens playing their favorite video games during the reception to posting at the side of the dance floor Super Mario levels immortalizing the bridge and groom's names in Coins forever!
"I ask myself, as someone who has a lifelong passion for gaming experiences, how can I best integrate a love of gaming into a special occasion, no matter the age or event? Building a completely new business that touches and enhances people's lives is what drives me, and I wouldn't have it any other way!"
FN:  What advice could you share with future entrepreneurs?
CH: No matter your industry, Northeast Ohio will surprise you with the business aid available and the friendly, talented people you'll find through networking! Industry networking groups, chambers of commerce, young professional groups, enthusiast meetups — all here. *
Just follow your passion! The money will come if you find what you love to do and find others who are doing it for a living.

-Chris Halata, Games Done Legit
Chris Halata brought his passion to the Nordonia Hills Library below (on Saturday, August 13, 2016).

Save
Save
Save
Save