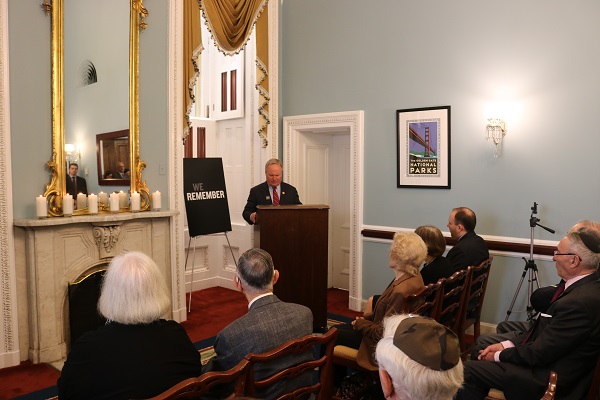 Calls for renewed commitment to prevent anti-Semitism or any similar
hatred from taking root in the United States
WASHINGTON – Today, Congressman Dave Joyce (OH-14), after attending a
candle-lighting ceremony with several Holocaust survivors, issued the
following statement in recognition of Days of Remembrance [1],
established by Congress as the nation's annual commemoration of the
Holocaust:
"This week, we remember the millions of innocent Jewish men, women and
children who were murdered during one of the cruelest periods in human
history. We also honor the survivors and thank the WWII veterans who
risked their lives to defeat Nazism. Such evil has no place in our
world, and this week reminds us that we have the power to prevent
anything like it from happening again."
Dave remains committed to ensuring all Americans have the freedom to
practice their religion peacefully and will continue to stand with
Ohio's Jewish community against anti-Semitism. Most recently, Dave
cosponsored the Never Again Education Act (H.R. 943) [2], a bill to give
teachers across the United States the resources and training they need
to teach our children the important lessons of the Holocaust and the
consequences of intolerance and hate.
Further, as a member of the House Appropriations Committee, Dave is a
proud supporter of the Holocaust Survivors Assistance Program and has
worked to ensure all Ohioans have the resources necessary to practice
their religion safely without fear. His consistent support of programs
that provide at-risk organizations with funding for security
enhancements has helped houses of worship, such as synagogues, as well
as community centers and K-12 schools, save lives when dealing with
threats to public safety.