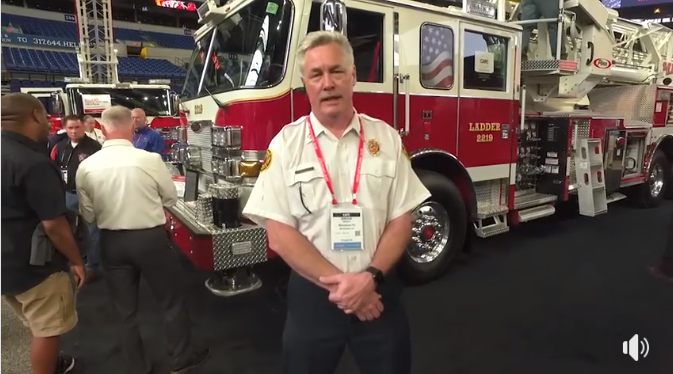 On Thursday, October 9, 2019, we responded to a single family home on Beacon Hill in Northfield Center for a reported fire in the garage. The first call came into our dispatch center through 911 and was called in by the home owner and a neighbor. The home owner and his family were home sleeping at the time of the fire. The home owner's wife awoke when she heard the door bell sounding; she woke her husband and asked him to go see who was at the door. He went to see who was at the door and as he walked down the hallway he could hear a smoke detector sounding. When he got into the kitchen he could see some smoke coming through the door going out to the garage. He immediately went back to the bedrooms to wake everyone up and get them out of the house. They all exited the home through the front door safely.
Our first arriving vehicle on scene was our Northfield Center, station three's engine. They reported that they had a single family, one story home with an attached garage that was fully involved in fire. He confirmed that all the residents were evacuated and that they would be stretching a hose line for extinguishment. On all confirmed fires Northfield Village Fire is automatically dispatched with our units. Station ones engine and command vehicle arrived and assumed command. Northfield Village Fire and station two arriving within minutes of the other units.
Shortly after commands arrival on scene he requested mutual aid for man power from Twinsburg Fire and Valley Fire District. The fire was already into the attic space above the garage and smoke had filled the house. The first hose lines were stretched to the garage to knock down the large body of fire and then they were advanced into the home through the front door. While they were opening the ceiling another member was shutting off the utilities to the home. After the fire was extinguished our fire investigators called the state fire marshal's office to assist with the investigation. At this time the fire is still under investigation. The estimated damage is to be approximately 200 thousand dollars.
The call came into our department at 03:34; we were on scene at 03:41. Our department responded to the incident with two engines, a rescue squad and a command vehicle with a total of seven firefighters, Automatic aid was received by Northfield Village Fire for an engine, mutual aid was provided by Twinsburg Fire for an engine and Valley Fire District for a rescue squad.
The number of firefighters at the scene totaled 16. We are reporting no injuries to firefighter's and the rescue squad on scene did evaluate the two children that were in the home per the parent's request, but they did not transport.