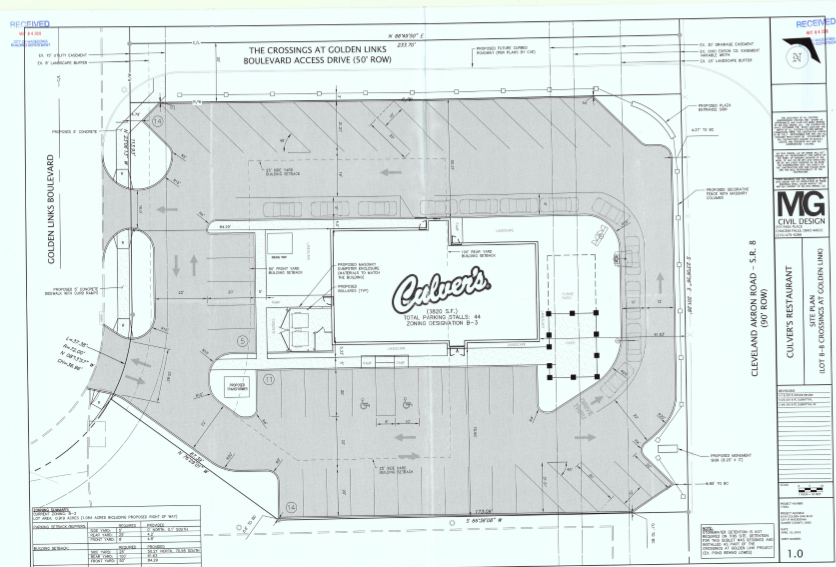 By Julie D'Aloiso
Culver's should be opening mid-May of this year. Many people are excited about their Butter Burgers!
Many people ask about the old BP gas station at Highland and Rt 8. The owners of the property talking to realtors.
The old Huntington Building on Rt 82 will be remodeling soon. They are removing the drive-thru to make it more usable for a new business.
The City of Macedonia is actively pursuing high-end restaurants in this area. Both the Huntington property and the BP property would be ideal for this type of business.
As they are removing the drive-thru for the old bank, Panera will soon be adding a drive-thru to their property.
Speaking of a drive-thru, the Get Go on Highland Road will be getting a New "Wet Go" car wash.
The Dunkin Donuts proposed in Northfield Center is currently in the process of submitting their site plans. They are asking for a right in and a right out onto Rt 82.
New Locations
Triton Marine 953 East Aurora Road
Tax Pros 913 E. Aurora Road
Spectrum is setting up a new location in the Macedonia Commons near Cleveland Clinic. They are getting into the cell phone business and you will also be able to get help with your cable and internet service. The European Wax Center. is also moving into the same area in the Macedonia Commons.
New to the area
Gemma Granite and Quartz 553 Highland Rd.
Achieve Nutrition 828 E. Aurora Rd.
Aggrekko 8649 Freeway Drive
Good To Go Motors 874 Valley View Rd Unit 1
Coming Soon
Kairo Childcare Center 874 E. Aurora Rd Unit 3
Renovations
Taco Mexicanos is working on a new outdoor patio. There is more work to the done to what you see so far.
The Speedway on Rt 82 will be making exterior modifications; cooler and café.
We will keep you posted about these projects and more! Stay tuned!