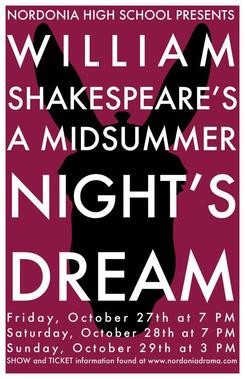 The Nordonia High School Drama Club will present William Shakespeare's A Midsummer Night's Dream as this year's fall play production. The Drama Club is excited to take on their first Shakespeare production with Midsummer, easily one of the bard's most famous comedies.
Midsummer portrays the adventures of four young lovers and a group of amateur actors, and their interactions with woodland fairies. Taking place in a mythical Athens and an enchanted forest, there are a warring fairy king and queen, a misguided parent, star-crossed lovers, and a weaver who's transformed into a half-donkey. It is a story that focuses on love and how falling in love can make fools of us all. Love is crazy, love is mad. Will love win out in the end?
Directed by Nordonia's Director of Drama, Chris Simmons, with the assistance of Dane Leasure, Midsummer will be presented in a thrust arrangement, with the audience seated on the stage with the actors. This year's cast is comprised of: Jamie Brasdovich, Nicky Dietzen, Hannah Ford, Michael Kerosky, Devon Knotts, Miah Montesano, Juliet Penrod, Lorna Picoult, Alex Posar, Jeremy Pugh, Adeline Riley, Kaeli Stephens, Anthony Strong, Nolan Tater, Kayleigh Wisniewski, Natalie Wurts and Bradford Zinn.
Performances for Midsummer are: Friday and Saturday, October 27th and 28th, at 7:00 PM and Sunday, October 29th, at 3:00 PM, in the high school auditorium. Due to the audience configuration, seating will be limited for each performance. Tickets are general admission and are $10 for adults and $5 for students. To reserve tickets and for more information on the Drama Club, please visit www.nordoniadrama.com.