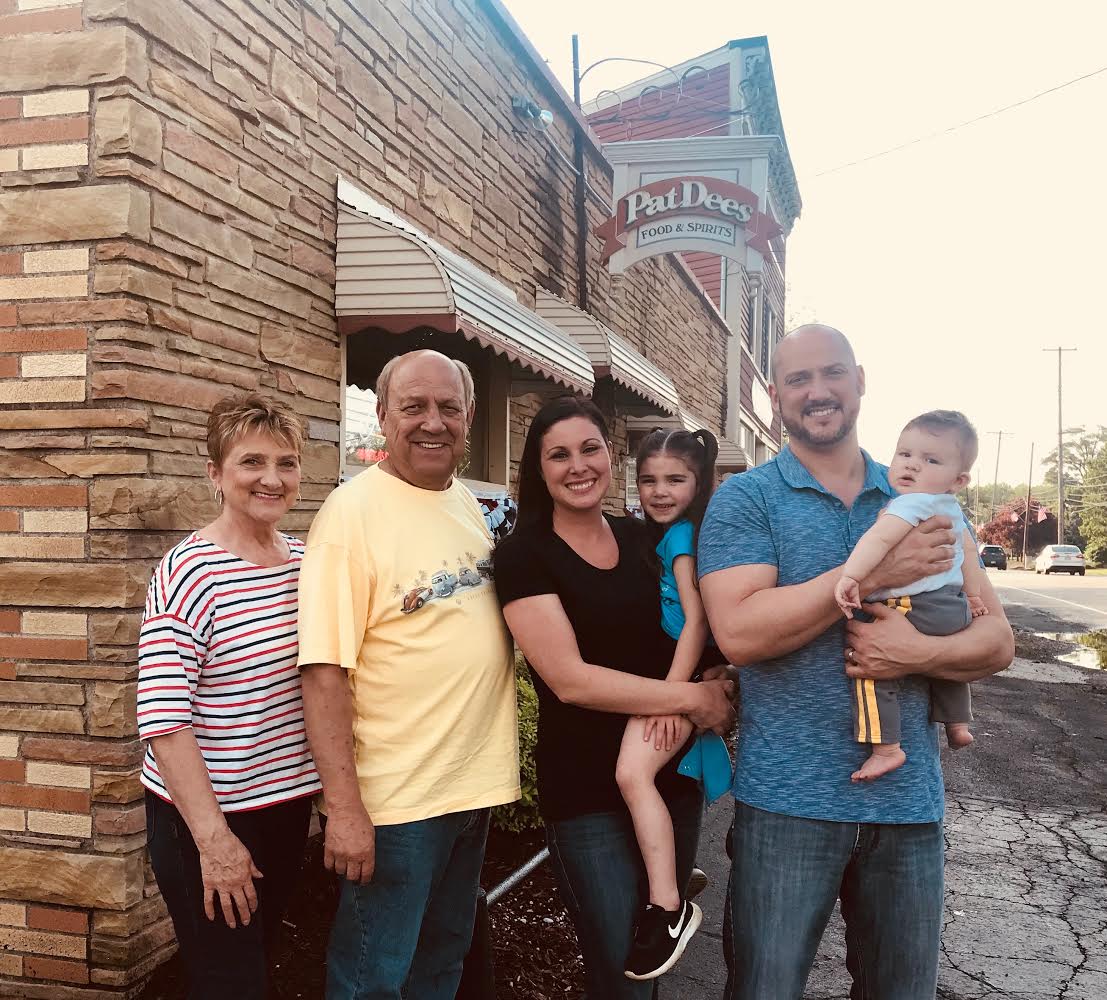 By DiAnne Erben (one of the new owners)

It was about a year ago this next August, that I noticed a posting online (I think Facebook), that Pat Dees was for sale.  Knowing that my son Ryan was looking for a business opportunity and has a background in banking and currently does auditing as his day job, and Sara was considering a job change, I looked into the details of the sale.  Sara had years of experience at being a server, tending bar, and managed a bar previously.  She also had knowledge of placing orders for alcohol, planning and booking parties, and was very customer orientated.  Keep in mind however, that as I'm checking into all the details of the sale, it was like looking at an ad for some exotic far away place that you would maybe someday dream of going to, knowing farewell it's never going to happen.  But it doesn't cost anything to look at the pictures, and who doesn't like to dream?  So one day I mentioned it to my son Ryan in a very jokingly manner.  Ryan and Sara have a 5-year-old girl and 6-month-old boy. They would fit into this new area for them very nicely. We laughed and joked at the whole idea of it.  Then weeks later, out of nowhere, Ryan and Sara said they wanted to go take a look at it.  My husband and I were totally floored.  It was supposed to be a joke, remember?  So we went as a family, looked it overtaking in all the aspects of the business, gave it lots of thought, and then one day Ryan and Sara said they wanted to make an offer.  The rest is history.
My husband Noel and I are also partners in the ownership.  My husband had been a contractor most of his life, and then spent fifteen years as a building inspector.  He passed on his knowledge of the trades to both of our sons, and they do quite well for themselves when it comes to building and repairing.  I recently closed my hair salon which I owned for thirty-five years.  It was my passion, and I loved being with people.  So I guess you could say I have some business experience.  When you put everyone's experience together in a bowl and stir it up, it sounds like the outcome could be pretty good.  That's why we did it.  It's definitely keeping my husband and I busy since retiring from our past jobs.  But they say that keeping busy at our age is what keeps you young.
I would also like to add that Noel and I have two other children.  Jennifer and her family live in Texas and our Son Scott and his family live locally.  We have always been a very close family.  We have a good relationship with one another, we look out for each other and share the love.  Even though they are not directly involved in the business, they share in the excitement of it, they offer suggestions, and also help with the physical work, when needed.  Noel and I are proud of all our hard working successful children and their families.
We do plan on making some improvements to the menu.  Naturally, in any food orientated business, the numbers make the difference.  This means looking at the POS system reports to see which items are the movers and shakers and which ones aren't shaking it at all.  Therefore some items will be removed, but they will be replaced with food items that hopefully will be more enticing and tasteful.  Once we revamp our menu we will be adding on a kids menu. There currently isn't one and we want there to be more kid-friendly items on our menu to choose from.
We are going for the "slow and steady" approach when it comes to improvements and changes. We believe that change is good, however, we also believe that too many changes too fast can sometimes not equate to better results in the long run. Although we all have a great combination of skills and experience to run a successful business, we didn't have experience running Pat Dee's and we feel it is important to get know the customers and the history of the business first before we make any major changes. It's a work in progress and is going to take some time to make it right.
We are all looking forward to making improvements to Pat Dees, but yet keep the olde town flavor that has attracted people to its location for many years. We are hoping to present our community with a pub and eatery that has a nice atmosphere for people of all ages, where people can gather with friends and family to laugh, celebrate, and just have an overall good experience.
We serve breakfast daily, ending at 11am on the weekdays and noon on Saturday and Sundays. We also have lunch and nightly specials every day during the week along with happy hour from 3pm-7pm Monday – Friday.