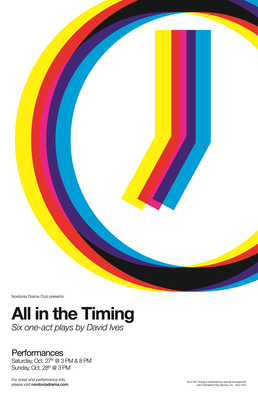 All in the Timing is a collection of six one-act comedic plays focusing mainly on language and wordplay, existentialist perspectives on life and meaning, and the complications involved in romantic relationships. 
Taking on the directing responsibilities for this year's production are several Nordonia Drama upperclassmen, overseen by Nordonia's Director of Drama, Chris Simmons, with the assistance of Dane Leasure.  All in the Timing will be presented once again in a thrust arrangement, with the audience seated on the stage with the actors.  This year's show is comprised of a cast of sixteen actors, under the direction of: Hailey Beck, Nicky Dietzen, Meghan Falkowski, Hannah Ford, Michael Kerosky, Kaeli Stephens and Anthony Strong.  
Performances for All in the Timing are:  Saturday, October 27th at 3:00 PM and 8:00 PM, and Sunday, October 28th, at 3:00 PM, in the high school auditorium.  Due to the audience configuration, seating will be limited for each performance, so reserving tickets ahead of time is encouraged.  Tickets are general admission and are $10 for adults and $5 for students. To reserve tickets and for more information on the Drama Club, including info on our spring production of The Wizard of Oz, please visit www.nordoniadrama.com.