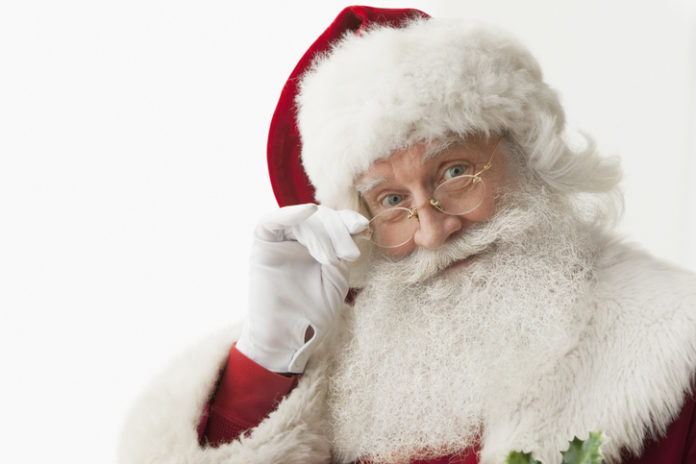 For more than 15 years I've been an official helper to the man in red who hangs with reindeer and drinks cocoa with elves.
But this may be the year I retire. It seems children don't believe anymore.
In the high-tech society we live in, children no longer want to talk with one of Santa's helpers on the phone.
That was my forte and I'm going to miss the memories.
I love Christmas.
I love the Jolly Old Elf who makes his yearly ride dropping off presents to children across the globe.
And, even at 50-plus years old I still believe in Santa. I always will.
Why?
I've met him.
That's right.
I not only met Mr. Kringle, but I interviewed him for a column.
Several years ago, when I was just a young reporter, I met Santa Claus in a secluded room in the Maple Heights Senior Center for an interview.
I was so impressed by the things Santa told me, including how he was there on the first Christmas when a young babe was born in a humble ox stall.
I was like an eight-year-old boy as we chatted.
I was so excited that Santa allowed me to take the oath to become one of his helpers.
What does that mean? It means I'm basically an order taker.
I would call a child and ask him/her what they wanted for Christmas. I checked their name against the Naughty and Nice List and gave pointers on what could be done to improve chances of getting a gift versus a hunk of coal.
I also kind of let them know what their elves, sitting on their shelves, had reported.
As an official helper, I was allowed to represent Santa on the phone.
Sometimes I had to be Mrs. Claus, Rudolph and even an elf or two.
My throat was usually pretty worn out after those calls, but I was thrilled for days after each.
My love for Santa goes way back, so does my desire to be a helper.
Long before I was an "official helper" I was a Summit County Deputy Sheriff.
One year I played Santa's helper for our union member's children.
It was amazing to see the faces of the children as they received presidents from Santa with a booming "Ho, Ho, Ho."
It was a lot of fun until an officer driving the sleigh decided it would be a good idea to stop, unannounced, by the house of our boss, the Summit County Sheriff.
The look on the face of the sheriff at the time was priceless.
I thought it was because he was glad to see a helper, dressed in red, with a flowing, long white beard, visiting his children.
I was wrong.
The sheriff was not impressed.
Perhaps asking the high sheriff if he wanted to sit on Santa's lap might not have been the best career move.
I've traded my badge for a pen.
Just saying.
But that was before.
Now that I'm an official helper and there is a whole big book of rules I must abide by.
As a helper I must be fast with the quips because children are fast. Their little minds race at speeds that boggle me.
As I prepare to hang up my felt hat and jingling bells, I think back on some of the interesting and memorable experiences.
Several years ago, a little guy asked me, via the telephone, what happened to the instructions he requested the year before.
"Instructions?" I asked.
"Yes. For the steam-power jet pack I asked for last year," he answered.
I simply told him he was a bit young for that, so we replaced it with another toy.
Crisis solved.
The same little guy seemed to remember Santa mentioning a diet the previous year.
"Is Santa still on a diet from 2016?" he asked.
I told him "No," and requested my favorite cookies and carrots for Rudolph and crew.
The child's cousin took the phone and requested a bow and arrow set.
Suddenly, without thinking, I remembered my favorite line from the movie "The Christmas Story." I smiled and knew it was a risk, but I had to take it.
"You'll shoot your eye out, kid," I said with a perfect movie Santa accent.
Too bad the cousin was only five and the reference was lost on him.
But I enjoyed it.
Being a helper has been fun, but a challenge.
Several years ago, my nieces and their brother found some presents their mommy had hidden for Christmas. The children ripped into the presents before they were caught. So, I thought I could make a recording of Santa warning them not to do that again.
I let my then 4-year-old niece listen first.
"That's not Santa. That's you Uncle Tim," Anaya said.
I was busted like the Grinch. Nothing I could do.
And anyone who takes the oath of a helper can attest that while the job is filled with laughter, smiles, and enough good memories to fill volumes of books, there are moments which can turn smiles to tears in seconds.
That's one thing the book does not prepare helpers for.
Many years ago, I was chatting with two boys who had lost their dad in a car accident. Their dad was asleep in the front passenger seat, not wearing a seatbelt.
During an accident he was thrown from the car and died instantly.
As I was talking to the youngest son several months after the accident, I was hoping to somehow bring a smile to his face. Instead, the little guy left my heart torn with a memory I'll never forget.
"What do you want for Christmas?" I asked.
After a long pause the child spoke.
"I just want to have my daddy back…"
Oh my goodness. I was not prepared for that, but I had to think fast.
I let him know that Santa can't bring people back from Heaven.
"When people are with Jesus, there is nothing Santa can do," I said as tears began to flow. "But if you are good, Daddy will be waiting for you one day."
We chatted for a bit, and I brought up several toys he could ask for. He only wanted one thing.
"I just want my daddy," he said again.
That still rips my heart out and that little guy, who is now a teen, still gets plenty of prayers from me.
Years ago, to be a helper, all it took was toss a few coins in a holiday bucket or donate toys to children in need.
Not anymore.
Maybe it's the time we live in.
I don't know. But I'm sad no one wants to chat with Santa or a helper on the phone.
Maybe it's me.
Maybe I've seen and written about too much.
Or maybe I've been too sick this year.
It's still a little early.
Maybe I'll be called into service at the last minute like an old worn-out relief pitcher.
Who knows?
And even if the skills for my Yuletide services are not needed, it will not dampen my love for Christmas and the giver of presents.
I hope whatever you do to celebrate, that you have a Merry Christmas and a wonderfully safe New Year.
Do you believe in Santa or have a Christmas memory?
If so, please feel free to share it with us.
Remember, you are never too old to believe in the spirit of Christmas – I may be putting my ho ho ho's in mothballs, I'll always believe.
Merry Christmas.