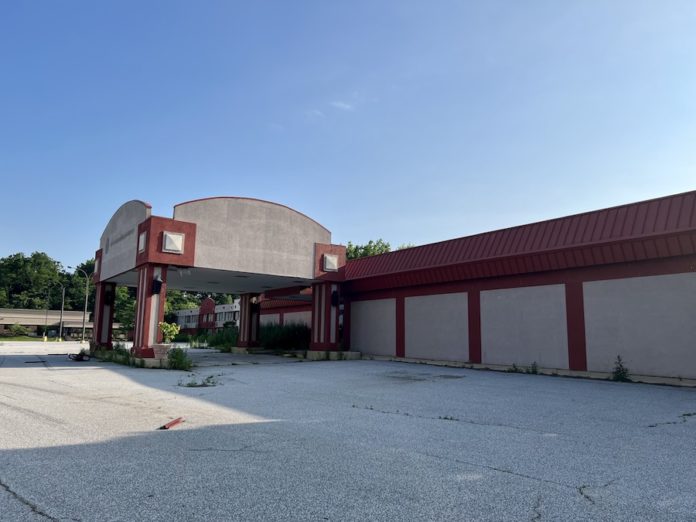 It was clear on June 14, that a proposed Sheetz truck stop to be located on the site of the former Norwood Inn, was not going to be welcomed with open arms by Boston Heights Villagers.
A public forum was held before the scheduled Council meeting. Several members of the 83-person crowd voiced opinions on the proposed Sheetz gas station and 38 spot truck stop. The Sheetz proposal is still before the planning commission, according to Mayor Bill Goncy.
The community concerns included health risks from idling diesel engine exhaust, unpleasant aesthetics to the area, a potential increase in crime, decreasing property values, added expenses and time of local safety forces and a domino effect with other truck stops and associated businesses opening in the area. Most of the residents asked that Council format a letter to the Planning Commission, opposing the proposed truck stop. Doctor Joe Blanda was concerned about the potential health risks. Diesel engines emit toxic fumes which can cause cancer, according to Blanda. Blanda said he researched more than 20 medical articles of the several of hundreds published. Dealing with the correlation between toxic diesel fuel fumes and health. "And they all have the same conclusion," Blanda said.  "Diesel exhaust is dangerous and has been linked to cancer, asthma and premature death from pulmonary and cardiac conditions." Blanda said toxic emissions are dangerous up to a mile away, especially children. He added the entire community could be at risk due to shopping at a neighboring grocery store, visiting the local park and businesses as well as to the staff and patients at the nearby Akron Children's Hospital.
James Miller, an appointed member of the Parks and Recreation Committee was also against the proposed truck stop. The proposed truck stop would be against the "safe" and "peaceful" corridor, Miller added.  Miller also said he believes the truck stop could lower local property values.
A village truck stop also could bring crime such as abductions, armed robbery, assault, drunk driving and an added drain of police services on the village, Miller said.
The village will have to pay for the added police who could frequently visit the truck stop for crimes, Miller said. He added that he was curious how the residents would pay for the added police presence. "We'll be paying for the security of Sheetz," Miller said. "And we'll also be paying for the crime we bring into our community." Miller also asked that Council research potential crime rates.
"Truck stops create significant negative economic impact on communities," according to Erin Lewis. Lewis said the village would have to pay for added road infrastructure damage as well as a drain on village services. "There are economic dead zones around truck stops," she said. "Once a truck stop goes in, other businesses do not want to be there. The only other businesses that will go in there are other truck stops." Lewis added that if one day Sheetz decides to close or leave, the village would have to remediate the "toxic" area at an immense cost. Miller also asked Council to perform a health study on the effect diesel fumes could have on adjacent neighbors.
Miller was also against the 24-hour noise he said trucks would bring to the area.  "The noise never stops," he said. "In reality there is no barrier that anyone can erect to stop the noise and vibration of semi-truck trailers." The diesel fuel fumes could "cause cancer" Miller said.
Miller added that the fumes would not only be in the immediate area of the truck stop, but also drift to nearby Akron Children's Hospital, negatively impacting patients, doctors and staff.
"Our planning commission will literally be putting lives at risk," Miller said. According to Miller the proposed truck stop also could cause a "domino effect."
"It's a magnet for other businesses like service stations that sell tires and service trucks," Miller said. "Not the kind of businesses other businesses want to be around. With respect to those people, nobody has a problem with that."
And it is not just Miller. More than 250 residents signed a petition against the truck stop, Miller said.
"You need to do the right thing," he said to Council. Jeff Marsh, a pulmonologist, was also against the proposed truck stop.
Marsh, like previous speakers, said he was worried about the health dangers diesel fumes could cause. As well as bringing potential crime to the village.
"We worry about the potential of drug, and human trafficking, [which could be] brought into our neighborhoods and distract the attention of our first responders," Marsh said.
The Sheetz proposal is seen as a "reactionary response to a perceived lack of options rather than a clear vision of our community's positive growth," according to Marsh.
Marsh added the proposed conditional-use truck stop does not meet either the standards set down in the charter or the plans of the Hines Hill Road Corridor Overlay.
No business would want to build "in the shadow of a chemical haze that will hang over this property." he added.
One resident, who said he was a former truck driver, was also against the proposed truck stop. "I know what these places are like," he said. "They have piss bottles in them and driver's crap all over the place. All kinds of litter and crime, prostitution and what have you."
Tania Nemer is an attorney who has defended victims of human trafficking and worked as a prosecutor with the Summit County Prosecutor's Office. "Human trafficking will occur at this truck stop" according to Nemer.
"Ohio is the top five state in the nation for human trafficking," Nemer said.
Nemer added that one of the major locations for human trafficking are truck stops.
Other speakers agreed that a truck stop would be bad for the village due to fumes, traffic, crime and aesthetics.
The proposed truck stop issue will be on the Planning Commission's July 6th agenda.
Click here to read Boston Heights June 14th Council Meeting