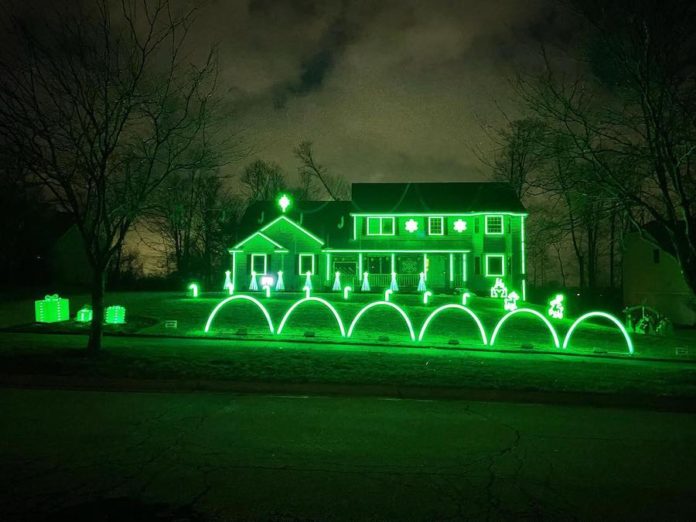 When you drive down Firestone Lane from now until January 8, 2023, and 5pm-11pm- slow down and tune into 87.9 FM.  The Garvas' Family Lights show will be on display for all to see and listen to.  You can even choose your own songs just like a Jukebox when you are parked outside the house.  http//garvas.org/lights. This year will have a special addition to provide video elements during the show.
The Garvas Family have put up the festive Christmas light display since 2017 (as their display started with 2000 pixels/lights) and they have added something to new to attract visitors and add density to the show every year. They really enjoy the "ooh's" and "ahh's" the little kids give, as they roll down the car windows to get a better look.   The excited reaction visitors give makes building the synchronized light display worthwhile for their family and brings them much happiness.
Everyone has a job to do with building and creating the Garvas Family Lights display.  Jessica, is a junior at Nordonia High School, whom also cheers for the football team in the fall, and is a competitive dancer with Center Stage Dance Studio.  Center Stage built the foundation of music, beats, and bars aligning to movement, which in turn is how she designs all of their show's lighting synchronization using xLights, according to her dad, Jeff Garvas.  Jeff does a lot of the physical assembly and electronics, while his wife does prop assembly pushing each individual pixel to what its intention is to do.
Their Facebook page is: https://www.facebook.com/GarvasFamilyLights
Instagram page is: https://instagram.com/garvas_family_lights/
When Jeff was younger he said he used to drive a distance to see any elaborate static Christmas lights because there weren't any nearby.  A popular display he recalls driving to was the most popular Zmija family house on 71st Street in Cuyahoga Heights found at: https://www.youtube.com/watch?v=U17wCPdaZkU. Another one was on Route 82 in Broadview Heights they would drive to as well.
When Jessica, a junior at NHS would go driving with them as a little girl, she would come home and ask where their Christmas lights were and that initially led to multiple failed attempts at traditional lighting, according to Jeff.
The lights they purchase do not come from Home Depot, Lowe's or Walmart.  They are unique, in the sense that they are custom made and have to be soldered to connect all the wires together.  When they first started the displays they had to order lights from China. Often times, they group orders together with other Northeast Ohio lighting enthusiasts.  Earlier this year, they traveled to Michigan to learn more projection mapping, video, and more.
Currently they have about 10,000 individual pixels in the display.  Each perfect line of lights on the house are meticulously measured to be 2" apart. The higher density props they added this year can perform some impressive animations, like their 4 ft. Bethlehem Star, Disney Castle with Mickey silhouette, which complements the Disney Princess sequences.  Many of these have been made with coroplast (10mm thick campaign sign material) to add props like Rudolph and Clarice reindeer, red and white candy canes, and the 4 ft. tall Christmas trees.
The Garvas Family would like to invite you to see their display, and listen to Christmas and non-Christmas music, while taking in the sights.  Special sequences at the end of each night called "Play This If the Cops Show Up" feature Matthew Broderick asking, "why you're still there"? For those of you unsure who Matthew Broderick is, he's featured in a 1986 movie, about a teen who skips school and avoids getting caught, just barely.
The Garvas Family hopes that everyone has a Merry Christmas and Happy New Year!