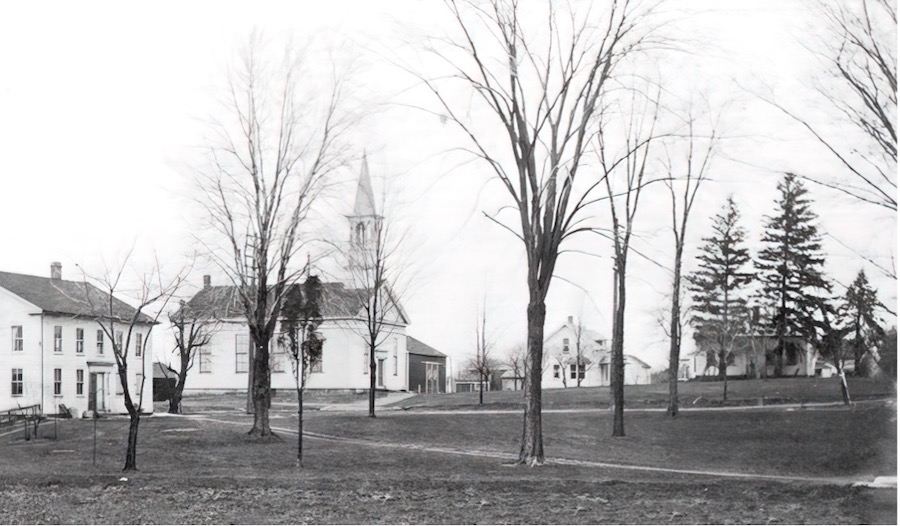 After publishing the last letter, it was discovered that according to the transcription there were additional writings scribbled wherever the author could find room. Those notes are listed below. They are followed by a letter written to Emily from her sister Clarissa.
Father – Josiah Clemmons Johnson (1781-1857), patriarch or Johnson family
Mother – Betsey Elmer Johnson (1785-1870), matriarch and Josiah Johnson's wife
Harriet and Orson Brainard – Unknown
Aunt Lovice – Lovice Johnson (1799-1859), sister of Josiah Johnson
Sylvia – Sylvia Johnson Buell (1810-1857), Emily Johnson Dwight's sister
Josiah – Josiah Buell (1802-1885), Sylvia Johnson Buell's husband
Cousin Heart Taylor & his wife – unknown
Aunt Abigail – Abigail Johnson (1791-1871), sister of Josiah Johnson
Emeline Taylor – Unknown
Aunt Anna – Anna Elmer Johnson (1783-1867), sister-in-law of Josiah Johnson
Uncle Othniel – Othniel Johnson (1778-1851), husband of Anna Johnson
Wallace – William Wallace Johnson (1813-1900), son of Othniel and Anna Johnson
Dwight and Aunt Dwight – not enough information by which to identify.
Carlos – Carlos Hawley Johnson (1802-1855), brother of Emily Johnson Dwight
Lucy – Lucy Coffin (?-1851), wife of Carlos Johnson
Brother – Roderick Dwight (1802-1863), Emily's husband.
Sister – Emily Johnson Dwight (1808-1886)
Mr. Sprague/Mr. S. – Unknown
Sister Wood – Betsey Elmer Johnson Wood (1812-1889), Emily and Clarissa's sister.
M – Unknown
C – Unknown
H – Hooker Taylor (1811-1884), Clarissa Johnson's husband.
Clarissa – Clarissa Johnson Taylor (1818-1885), author of letter and Emily's sister.
Levi – Levi Webster Taylor (1839-1854), Clarissa's son
Libba – Elizabeth Elmer Dwight (1838-1906)
Minerva Johson – Unknown
Samuel T – Samuel Taylor (1800-1885), cousin of Hooker Taylor
Sarah Jane – Unknown
P. Graham – Unknown
Cyrus – Cyrus Taylor (1817-1894), brother of Hooker Taylor
(written on back, around address)
Father does not do much his health is about middling. mother feels anxious for you to come here she wants to see you. you probably know in some degree the strength of a Mothers love
Mother was here yesterday she is pretty well for her. Harriet and Orson Brainard were here about three ago Aunt Lovice health is poor the rest of the family are all well I have not been to Chester since I went with you We have not heard from Sylvia for more than a year nor from Josiah Cousin Heart Taylor & his wife were here a visiting about two weeks ago they well and in good spirits Emeline Taylor is getting well she has got so she walks
I would write to Aunt Abigail if I had time give her my love tell her I have not forgotten her and to
Aunt Anna We sympathise deeply with her in her sudden and distressing bereavement It seems as though it must break her heart He that has torn can heal He that bruises can bind up the broken heart I hope it will be a blessing for her good and to Uncle Othmiel in particular We had a paper from Wallace last week They are well and well contented When you write let us know all the where you live and whether you have bought or not 2?? Dwight is very actively engaged in Religion
Aunt Dwight health is better than it was last winter when I visited her
 
(written in margin, first page)
Carlos family is well I do not know whether they will write or not Lucy appears very different from what she used to since experiencing Religion.
(written in margin, third page)
Now Brother don't set down and think of all the hardships all the way but say I will go and trust in God and abide the consequences putting away every discouraging thought
The following letter was written by Clarissa Johnson Taylor, Emily's sister. It was written about a year after the above notes.
Addressed to Mr. Rhoderick Dwight, no price, sealed Colerain, Massachusetts. Sept 2, 1844
Dear Sister:
I now sit down about 8 o'clock to scratch a few lines to you and indeed they must be few for I am very tired I have been doing a xxxx(xed out) two weeks working today besides having company I did not finish till most sundown and then my chores to do. We have had the pleasure of again shaking hands with another Buck man Mr. Sprague came to town Saturday night he has been here today I will assure you
there has been some talking done here for Father and Carlos were here part of the day although we did not hear directly from you and family, we found a great many questions to ask. Mr. S, thinks he must leave town in the morning so you see have no time to collect my thoughts after so much jabbering but I always feel under obligation to write to you and family if there is an opportunity to send or well thinking it a great privilege I suppose sister Wood & M. have written to you probably they have told you all the news
Our family are in about their usual health Mother is not very well so she is about and works M(????) is about the same he has not been able to do much work for 2 years B I suppose you know is married Chas not been at home to stay this long summer she lives to Mr. Elys H enjoys good health as for myself I am not worth much
written in left margin:
I will send E a piece of my frock and Levis clothes, all the ones I have had since I wrote you C. T.
I was sick the last of the winter so as to be confined to my bed some weeks I worked rather to hard I suppose we all live in one family, and I had considerable to do B went so suddenly. we have to help her and Mother had a fall the fore part of the winter so she needed waiting on she did not help much all winter H(?) was gone most of the time M. was not able to wait on himself!
also had weaving to do so you must see I must be pretty busy to get along I find it brings some more care on one to live all together but as we are situated I think it best to live in one family. My health has not been good since I was sick The Doctor though my Liver diseased together with the nervous system I have not done much this summer though I have pretended to do my housework with what Mother has helped me I find my nerves are to affected I cant stand much hard work the Doctor tells me I must leave off weaving entirely I have not tried to weave this summer I don't think I should be able to do much at it
if I should undertake, I feel rather better for a few weeks I have taken some medicine lately which
has helped me some I think I don't ever expect to be able to do as I have done I think I need to be thankful I am as well as I am. Levi grows as fast as ever he has been to school this summer he has got so he can read in words of two cyllables he has not forgot Libba as he used to call her says he shall go to Mass. sometime and see her
written in left margin:
My love to all hope you won't expose my bad writing so good night. Clarissa
It is getting late and I feel as though I ought to be a bed but there are a great many things I would like say I should be very glad see you brother & sister & children in Ohio again but I don't expect I ever shall for it is a long journey and you had so much mud when here you will hardly want to come again It is a general time of health here there has been few deaths in town since you were here. She that was Minerva Johnson died last spring with the Consumption there has been some moving Samuel T has moved to Illinois B Nichols and Mrs. Shat and sons have moved up to one of the islands in lake Erie they have taken the land on it for five years there is no family on the island but themselves Sarah Jane stays here she is married to P. Graham he stays to his Fathers. Cyrus has sold his home and shop and intends to go south this fall 1 or 2 hundred miles he is going into the patent beehive speculation there are some others thinking of going away I would just tell you that Emiline Taylor has got to be quite smart so she does considerable work sit up all day I was there last week she was spinning 30 knots a day she walks all about to the neighbors I think I shall make me another shoulder blanket this fall Lucy is spinning it for me she intends to make some we sold the most of our wool last spring I have not spun any myself Mother has spun some & we have hired some. We have not heard from Josiah since you were here. we are looking for him out her this fall We have not heard from Sylvia either since a few weeks after she went home from here.
written in the left margin:
I find I must stop I think you will hardly be able to read what I have written hope you will write when you can I would like to send some presents to the children, but Mr. S thinks he shall walk some so can't ask him to carry more than a letter.
In the next letter, we will hear from one of Emily's brothers, Gad Elmer Johnson. Note how he and an associate built a school for $208.00!