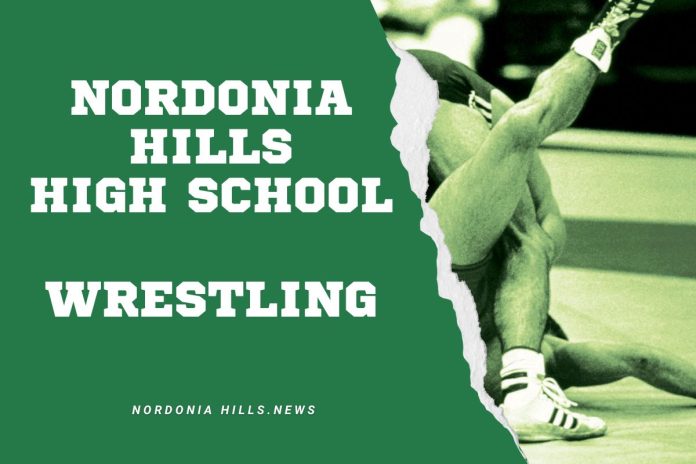 Wrestling is a key sport for Nordonia High School students during the winter season, led by Coach Walter since 2017–2018. The clear objective is to bring Nordonia back to the top 10 at the state tournament. Following a successful season last year with four wrestlers placing in the top 5 in the state, Coach Walters is determined to continue that success in the upcoming winter matches. Coach Walter, looking ahead to the winter season, provided clear and positive goals and expectations for students, friends, and fans..
"The goal when I took over as head coach was to get Nordonia back to the top 10 at the state tournament. We finally achieved that goal last year, with four wrestlers placing in the top five in the state," shared Coach Walters. This year, the focus shifts to the entire team, with returning standouts Israel Pettite and Gino Perrine at the forefront. The objective is straightforward: every wrestler is stepping up, believing in themselves, and embracing the mental toughness required to conquer the competition.
Due to the district's and conference's finest wrestlers, Northeast Ohio wrestling is difficult. Coach Walters knows this is hard, but he also said something that was probably illegal. He stated:

"Here at Nordonia, we do not promote holding back kids in order to gain an advantage by being older. We do not recruit kids from outside of our district or any of the unethical coaching trending from some other programs. Many of our state's best wrestlers in the past decade have been held back multiple times by homeschooling a year or two extra before going to high school. There are so many kids competing in Ohio sports that by the time they've begun their freshman year of college, they are 20 years old. So literally, we have men competing against boys in a high-contact combative sport like wrestling, which is both a mental and physical advantage. Watching men celebrate beating boys I have no respect for it."
Returning to the mat this season are Israel Pettite and Gino Perrine, both accomplished state placers. Their experience and determination are expected to set the tone for the team's performance. The squad also sees the return of sophomores Graham Pohlmeyer and Dan Stutler, JV standouts Shane Prischak and Grant Lefeld, and the formidable senior class, including Nathan Miller, Matt Hamad, Israel Petite (Izzy), Gino Perrine, and heavyweight Asher Wilson.
The Nordonia wrestling philosophy is grounded in integrity, rejecting practices like holding back students for a competitive advantage. 
"So the goal is to be the very best we can be day by day. Control what we can control, which is ourselves and our willingness to give everything we have with no regrets," Coach Walters states, outlining the team's approach to the season.
Five (5) Players to Watch at  the Winter 2023 Nordonia High School Wrestling Season (Coach Walter Picks)
Nordonia High School has a talented and dedicated roster of wrestlers competing this winter. The graduating class, under Walters' coaching, is prepared to demonstrate that it has the physical and mental fortitude to succeed in a demanding sport.
Nathan Miller – Weight Class: 144
Nathan Miller, a seasoned senior, has the potential to reach the coveted All Ohio status. Despite grappling with mid-season injuries last year, Miller's return to the lineup signals a determination to overcome challenges. Coach Walters emphasizes the importance of getting Miller's head in the right space, expressing confidence that we might witness an All Ohio performance at 144.
Matt Hamad – Weight Class: 150
Returning at 150 pounds, Coach Walters describes Matt Hamad as plain old tough. Despite being on the verge of Ohio honors last season, Coach Walters points out a mental hurdle that Hamad aims to conquer this year. According to Coach Walters, wrestlers cannot step onto the mat with doubt. There is high anticipation that we will witness a different, mentally resilient Matt Hamad this season.
Israel Petite (Izzy) – Weight Class: 157
Israel Petite, a student who goes by the nickname "Izzy," is a strong person who weighs 157 pounds. With a State Qualifier title as a freshman, a 7th-place result as a sophomore, and an incredible 4th place last year as a junior, Izzy is a special athlete as well as an outstanding individual. Coach Walters reminisces about recruiting Izzy from junior high with no wrestling experience, yet he has evolved into a dominant presence on the mat. According to Coach Walters, the only one capable of defeating Izzy is Izzy himself. 
Gino Perrine – Weight Class: 175
Returning this season at 175 pounds, Gino Perrine has broken into his own league. Despite being only 17 years old, Gino's junior year saw him secure a commendable 4th place in the state. Coach Walters highlights maturity as the only factor that has held Gino back. Believing that Gino possesses all the necessary attributes, Coach Walters looks forward to seeing him unleash his full potential on the mat.
Asher Wilson – Heavyweight
Asher Wilson, a senior, is a great addition to Nordonia's wrestling team in the heavyweight class. While switching from basketball to wrestling last season, Asher's natural athleticism and ability almost got him to the state championships. Coach Walters anticipated a more controlled and motivated Asher this season, expressing pride in the young athlete who will soon move to the Air Force Academy to play football.
Brought to you by: