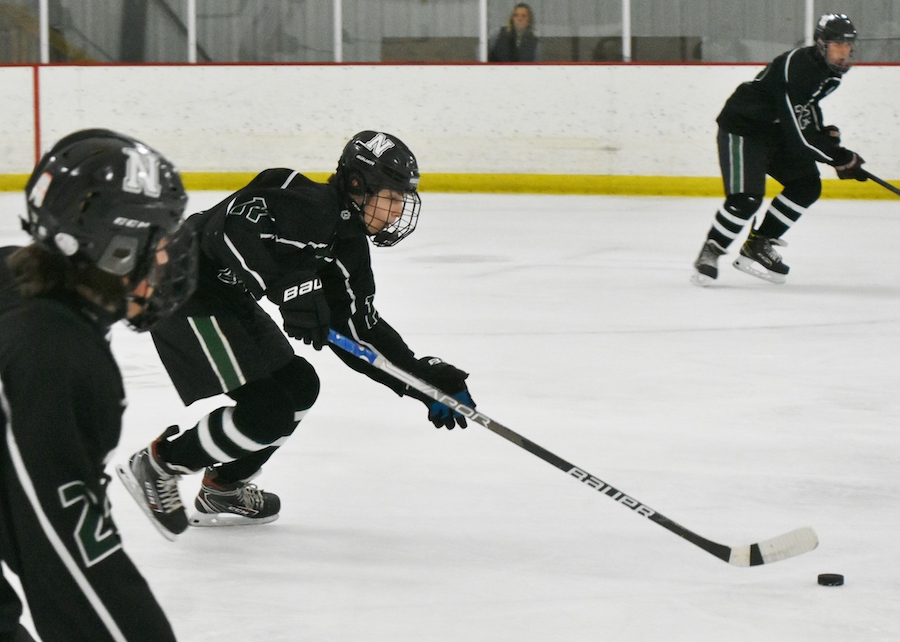 Saturday night hockey was lively, even for a 9:20 pm game, as parents' yawns quickly turned into cheers with an attention grabbing, fast-moving competitive hockey game that kept them on the edge of their seats. Nordonia showed Orange just how well our team could work together as they played an upper level non-league game. The game was close throughout the second period, and partly into the third.
Experienced defenseman and Senior Daniel Kimpton #5 scored the first goal with an assist from Junior Brett Rapp#21 and Freshman Evan Cerny. Second goal was scored by Junior Jacob Waite #24, assisted yet again by Rapp and also Junior Owen Tindall #10, initially putting Nordonia into a 2-1 lead over Orange. Orange tied up the game 2-2 by the end of the second period. Third goal was scored by Tindall, assisted by skilled Freshmen; Dominic Nanne #23 and Colin Schleman #28.
Orange pulled their goalie late in the third period to help give the slight edge, but Nordonia took advantage of the empty net when Tindall shot the puck as the buzzer counted down the final second in the game, ending the game with Nordonia winning 4- 2 over Orange. It was a fantastic ending to a late night hockey game that made staying up late all worthwhile!
Orange took 24 shots against Senior Kevin Waite, giving Waite 22 saves, while Nordonia took 31 shots on Orange.
Special Thank You's
Seniors Hannah Zelina, and Allie Cerny volunteer their time to keep stats at the games, marking down shots on goal, who takes faceoffs and who is on the ice during a goal. Both Zelina and Cerny earn NHS letters in statistics for their involvement.
The Nordonia varsity hockey team sent a special thank you to Dr. William Davidson and his staff, for their custom fit mouthguards they made for them at the start of the hockey season. Thank you for caring about their smiles Dr. Davidson! The NHS team provided Dr. Davidson with a NHS Varsity jersey, with signatures from all NHS players. (see picture taken by Shannon Nanne) Dr. William Davidson of Tomorrow's Dentistry is located at 9365 Olde 8 Rd., Northfield, OH 44067 and is accepting new patients.
Another BIG Thank You goes out to Brian Sebastian who is the NHS team photographer and captures what parents don't always catch a glimpse of. His son Brian played hockey for Nordonia all four years before graduating in 2021 from NHS.