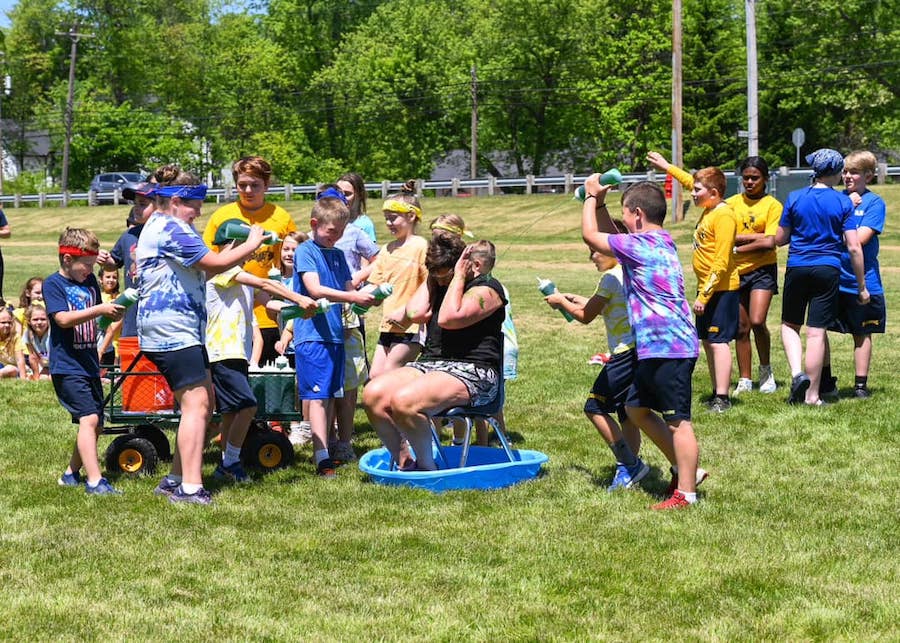 St. Barnabas School principal Erin Faetanini got slimed on Friday, May 26th, the result of a challenge to students for a fundraiser held this year. St. Barnabas School had a color run event, where students received pledges for laps ran. The goal was to raise $25,000, and if the school met the goal, Faetanini promised to let her students slime her. St. Barnabas not only met the goal of raising $25,000 but exceeded their fundraising goal!
The money raised will be used to enhance the St. Barnabas educational activities and experiences, specifically 2 new magnetic dry-erase chalkboards per classroom. The fundraiser was a blast for all students – they took part in a character program where they learned about the importance of teamwork, care, courage, grit, and celebration during the week while collecting pledges for laps run.
Principal Erin Faetanini was looking forward to getting slimed on Friday, May 26th. The slime was created by the students in STEM class this week. "As we are wrapping up this amazing school year, I'm excited to let the kids have some fun and celebrate their accomplishments. Even if it means I'll be covered in slime after our teacher-student water fight!"
St. Barnabas School is a Blue Ribbon School of Excellence Preschool, Pre-K and K-8 Catholic grade school located in Northfield, Ohio. St. Barnabas School follows the educational curriculum developed and supported by the Catholic Dioceses of Cleveland. This curriculum meets and exceeds the requirements for the State of Ohio learning standards.
For more information about St. Barnabas School, please visit www.sbcatholicschool.com [1] or contact us at admissions@barnabasohio.org or 330-467-7921.
Watch Principal Erin Faetanini get slimed here