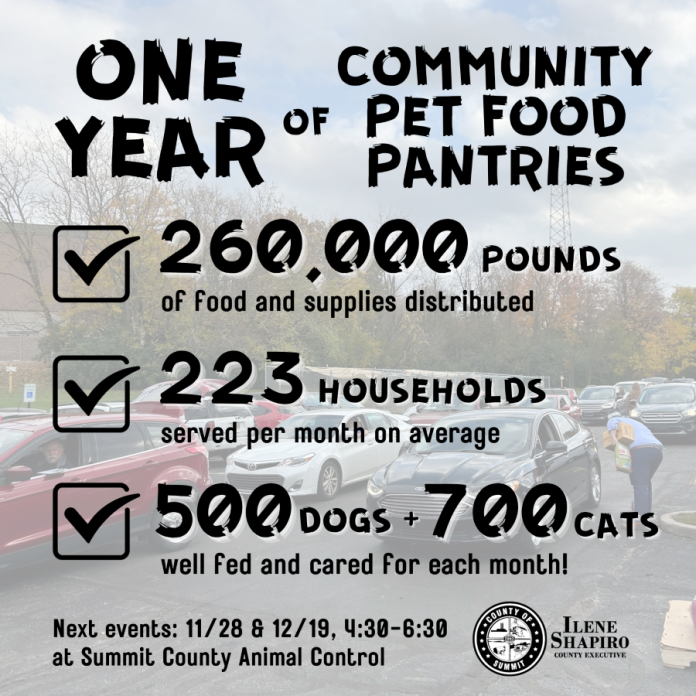 SUMMIT COUNTY, OHIO—Summit County Executive Ilene Shapiro and Animal Control are celebrating one year of the Community Pet Food Pantry! The Pantry started in November of 2022 with staff and volunteers serving 44 households, feeding 92 cats and 67 dogs.
Now, 11 events later, the Pantry has served over 1,900 households, 5,700 cats, and 4,000 dogs. That is an average of 223 households, 700 cats, and 500 dogs every month receiving free pet food, litter, treats, and supplies.
"We never want a resident to have to choose between food for their family and food for their pet," said Executive Shapiro, "At the end of the day, we love our furry friends, and this program enables us to make it easier for families to care for themselves and their pets."
The Community Pet Food Pantry was made possible through the initiative of Peanut's Pet Pantry and a partnership with the GOODS Program of Greater Goods Charities. To date, Animal Control has received more than 315,000 pounds of food and delivered 260,000 pounds back into the community.
The Pantry takes place on the last Tuesday of every month from 4:30 to 6:30 p.m. at the Animal Control facility at 250 Opportunity Pkwy in Akron. Due to the holiday this year, the December event will take place on December 19, 2023.
What:   Community Pet Food Pantry
Who:     Summit County Animal Control
When:  Tuesday, November 28 from 4:30-6:30 p.m.
Tuesday, December 19 from 4:30-6:30 p.m.
Where: 250 Opportunity Pkwy
Akron, Ohio 44307