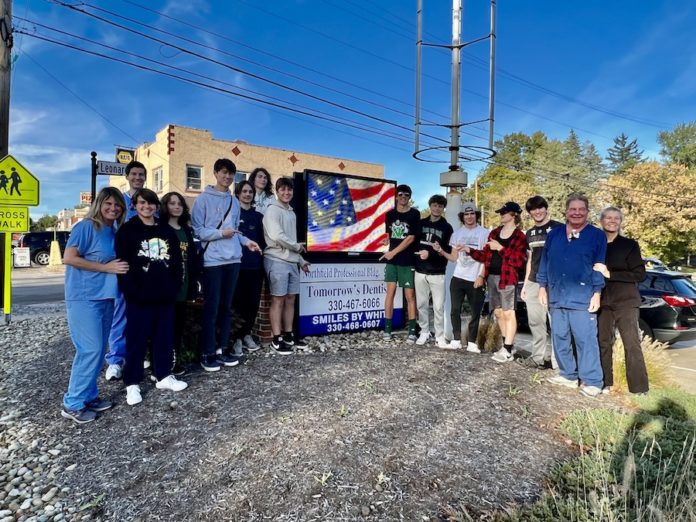 Nordonia High School Varsity Hockey players recently were treated to custom fit mouth guards provided by Dr. William R. Davidson and Dr. Michael Davidson at "Tomorrow's Dentistry" located at 9365 Olde Eight Road, Northfield, OH 44067. Brittany Welch, EFDA, and Shannon Nanne, RDH, also both contributed their assistance and expertise.
Custom fit mouth guards are much more comfortable to wear as they are custom fit for each individual.  They are made by taking an exact mold of the patient's teeth, which create a more-snug feeling while it is worn.  This is different than store-bought mouth guards that are boil-and-bite, which loosen up over time and wear down from repeated usage. Custom fit mouth guards are pricier than store bought ones, but are more durable and functional in the long run. They will last as long as an individual does not change their smile with use of orthodontics, extractions, or tooth replacements. Also, they must be kept away from dogs, as they find them to be quite the tasty treat!
A smile is worth preserving and the team at Tomorrow's Dentistry showed the Nordonia High School Varsity Hockey players just that!  Coach Rich Cinalli and the NHS hockey team want to thank the dental staff for the care they provided to them, as they are preparing for their upcoming hockey season.
First scrimmage is Tuesday November 8, 2022, at Gilmour Ice arena vs. Cuyahoga Valley Christian Academy (CVCA) at 9pm.
First league game Friday November 18, 2022 vs. Brecksville 6pm @ Dan Kostel Ice Arena in Garfield Heights.
Sunday November 20, 2022 -watch the Knights play a league game at 7:10pm vs. Brooklyn @ Gilmour Ice Arena.
Keep your eyes out for more scheduled games to cheer on the Knights!
For More Information about Tomorrow's Dentistry, visit their website at https://tomorrowsdentistry.com/ , where you will find, "Tomorrow's Dentistry has been providing comprehensive dental care to residents of Northfield and the surrounding area since 1985. Dr. Bill Davidson founded the practice as a place where the entire family can receive the best treatment, delivered with the best technology, in a caring and friendly environment. Dr. Michael Davidson joined the practice as an associate in 2018".