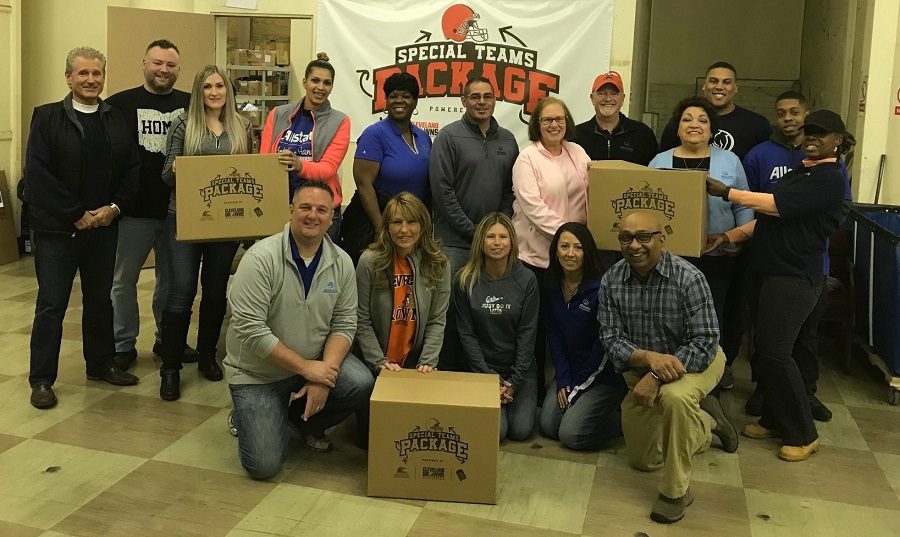 The Allstate Foundation grant to support nonprofit's work to improve education and youth development opportunities in Northeast Ohio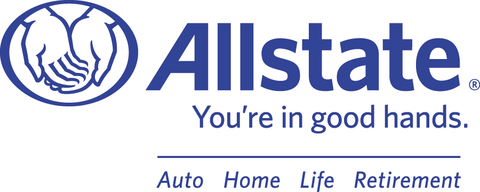 CLEVELAND September 4, 2018 – Sixteen Allstate agency owners, financial specialists and licensed sales professionals from the Cleveland area recently came together to secure a $11,000 Allstate Foundation Helping Hands® Grant to benefit the Cleveland Browns Foundation. The grant will support the Cleveland Browns Foundation's goal to ensure Northeast Ohio youth receive the education and development they need by helping identify opportunities, remove barriers and provide support to keep kids in school, every day, so they can succeed.
The agency owners, financial specialists and licensed sales professionals earned $1,000 each for the Cleveland Browns Foundation by packing up and sorting clothes and shoes to be delivered to local students in the area. The grant amount raised was presented in a check by the Cleveland Browns Foundation to a partner organization, Shoes and Clothes for Kids, which seeks to provide new shoes, school uniforms, clothes and school supplies to students in the greater Cleveland area. The volunteer event happened in tandem with Allstate's 2018 Bring Out the Good Month. Shoes and Clothes for Kids will use the $11,000 grant to further their mission to improve K-8 school attendance by eliminating lack of appropriate clothing, shoes and school supplies as barriers.
The participants are among thousands of agency owners, financial specialists and licensed sales professionals around the country working to improve communities by volunteering for the causes they care about most.
"Our Allstate volunteers see firsthand the opportunities and challenges facing the communities they serve," said Keith Clonch, Ohio Territory Sales Leader at Allstate. "Giving back is core to who we are, which is why we're proud to volunteer and raise funds to improve lives across Cleveland."
The Cleveland Browns Foundation is one of thousands of organizations this year to receive Allstate Foundation Helping Hands Grants secured by agency owners, financial specialists, and licensed sales professionals on behalf of the nonprofits where they volunteer. The grants support organizations addressing domestic violence, youth empowerment, disaster preparedness, hunger and other causes.
The Helping Hands Grants are one example of The Allstate Foundation's legacy of service and giving:
Since The Allstate Foundation was founded in 1952, it has contributed over $449 million to support community nonprofits.
In 2017, The Allstate Foundation contributed more than $33 million to support local communities.
Participating Allstate agency owners, financial specialists and licensed sales professionals include (in alphabetical order):
Christopher Bassett, Middleburg Heights and Parma
Guy Bassett, Middleburg Heights and Parma
Chantal Cook, Cleveland
Brandon Eslick, Cleveland
Renita Eslick, Cleveland
Jessica Lanzaretta, Middleburg Heights and Parma
Kristen Medcalf Monroe, Northfield
Lesley Michael, North Canton
Dorothy Owens, Garfield Heights and Richfield
Teresa Paez, Cleveland
Thomas Peel, Aurora
Christopher Pike, Garfield Heights and Richfield
Rebecca Snodgrass, Hartville
James Sullivan, Bay Village
Deborah Walker, Bedford and Woodmere
Nicholas Walker, Bedford Woodmere
We were able to sit down with Kristen Medcalf Monroe from the Northfield office and she discussed the program.
About The Allstate Foundation
Established in 1952, The Allstate Foundation is an independent, charitable organization made possible by subsidiaries of The Allstate Corporation (NYSE: ALL). Through partnerships with nonprofit organizations across the country, The Allstate Foundation brings the relationships, reputation and resources of Allstate to support innovative and lasting solutions that enhance people's well-being and prosperity. With a focus on building financial independence for domestic violence survivors, empowering youth and celebrating the charitable community involvement of Allstate agency owners and employees, The Allstate Foundation works to bring out the good in people's lives. For more information, visit www.AllstateFoundation.org.