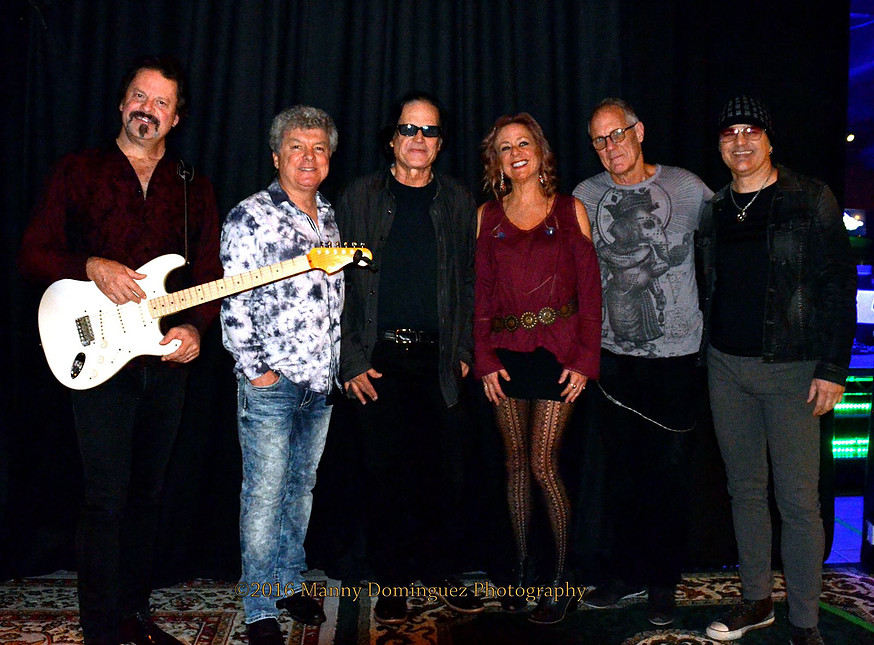 By Felicia Naoum
Burleigh Drummond started off our interview with humor. Humor is always a good place to start with anything. As I was ready to ask my first question, he joked, "Do I need my lawyer present?" No lawyer needed. Just talent from a classic band and its members — which is already present.
This story is about an upcoming show by the one and only — Ambrosia — and the fans who are going to help make the Sept. 29 Kent, Ohio show at Kent Stage  — one of many, many shows — many, many decades later happen. So, no legalities involved on this one. It's lighthearted and insightful — for the fans and even for the ones who may not know of Ambrosia and want a glimpse inside the band.
Allow time to take us back to the South Bay of LA in the 1970s.
Drummond will paint a better picture.
"I'm one of four founding members," says Drummond. "The actual seed, the very, very beginning [of Ambrosia] consisted of Joe Puerta, Christopher North and David Pack before they found me."
When all the pieces of Ambrosia was placed together, success didn't happen overnight. The band, discovered by music producer Gordon Perry in the 70s, was ready to make magic. But for Ambrosia, discovery didn't mean instant success. The hits fans still remember the group for like "Biggest Part of Me" (1975) weren't born overnight. Success took its sweet time. And Drummond was okay with that.
After being discovered by Perry in the early 70s, the next step for Ambrosia was to create the group's demo. With Perry, the group was able to gain more exposure. "Because of that, we played for a lot of classical people — one being Zubin Mehta," says Drummond. Mehta was a big-time LA Philharmonic Conductor who helped bring Ambrosia to the music forefront.
After initially being discovered by Perry, it took the band four years to be signed.
For most, four years can feel like a long time. Then again, if you follow Albert Einstein, it's all relative anyways.
But, the four year gap between discovery and being signed didn't phase a then young Ambrosia.
They had stuff to do. They had life to live. Live outside of music, too.
"We were dreaming of the big picture — but we were engrossed with life in general. We were still in college. When we got the opportunity, we were due. Sounds a bit boastful that we were due…but we had paid some dues," adds Drummond.
When success finally took off for the multi-genre band, Drummond truly believes they appreciated what they had then — even now. "Even though we were naive in some ways, we realize the opportunity we had."
And the band had all the support they needed, too. The support came from a man who could spot talent like no other. He spotted the talent that played in the big leagues. He spotted the talent that everyone wanted to play with and not sit on the sidelines and only watch. Russ Regan was the man to be chosen by. "Coming from Russ Regan at 20th Century Fox — he was the finder of talents — he discovered Elton John, Neil Diamond, Olivia Newton John, and Berry White. His taste was eclectic. He ran the gamut; to have his support was amazing," shares the drummer.
Earlier Drummond worried about boasting. It appears that if you worked hard enough and are talented enough to be discovered by Fox's Russ Regan, it's okay to boast. Although, based off of this interview, I can wholeheartedly say Drummond is not a boaster — at all.
Let's turn the musical tables to the reason fans are here.
The music. The tunes.  "Biggest Part of Me," "You're The Only Women," "Holdin' Onto Yesterday." The hits. Period. (Russ Regan knew what he was talking about with hits like these.)
I ask Drummond to explain who the band is for generations who did not grow up listening to Ambrosia.
More precisely to explain — who Ambrosia was at the birth of Ambrosia and who Ambrosia is today.
Here's what the original member had to say:
"When we got the green light from Russ Regan, we could play anything at the time, from country to pop, to avant garde-jazz. We were fans of a whole gamut of classical music." Drummond also shares with me how the band was also heavily into Prague music at the time. Their musical taste was very diverse; they were all over the map.
"We were considered America's answer to Yes and Genesis," declares the longtime musician.
As with most things in time, they change. So did Ambrosia's style of music. Kind of.
If you think about it, Ambrosia never had to one-hundred percent reinvent themselves to stay current. Through all the decades they have remained — Ambrosia — they have found a way to also remain appreciated by fans for their unique mix. Ambrosia is a buffet of music. You get to taste everything and never walkaway wanting more because your soul is full of such variety. I take that back. You want more. Ambrosia wouldn't still be performing if fans didn't want more. But, I think you get the picture. 
"We came down a little from the Prague mountain and started having pop hits with the Prague. In retrospect, what seemed worlds apart, now work together."
The fans are not complaining though. In fact, the fans are happy with who Ambrosia is and was. "People who came to see the Prague side of us have forgiven us for having pop hits. Nowadays, it's all working together."
So, who is Ambrosia today? Well, Drummond has an answer to that. He calls the group "a great Prague pop rock band." So, Ambrosia still has pieces of who they have always been. Longstanding authenticity at its finest.
However, when bands are labeled, it is just that — a label. What really matters is what the fans coming to see the band thinks.
Drummond tells me that the reaction from the fans have never been better.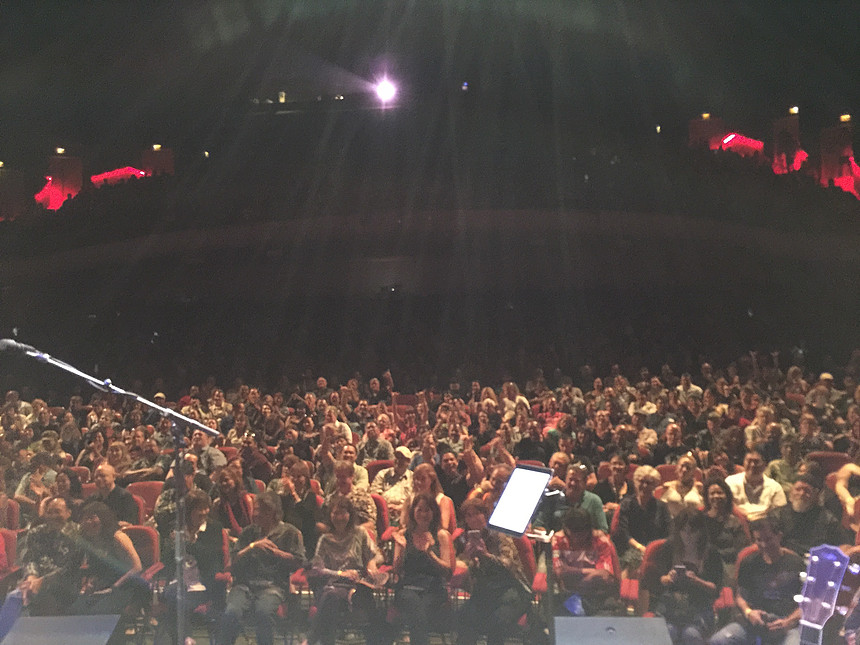 Jan Edmondson, Intervention Specialist, of Cleveland Heights, Ohio says hearing Ambrosia's music today takes her back to the good old days. "It takes me back to summer, living in my apartment, the breeze, humming. I was just happy. It just took me to a place where I felt really good; life was good," reminisces Edmondson.
Edmondson shares two of her all-time favorite Ambrosia songs: "You're The Only One" and "The Biggest Part Of Me."
Fans like Edmondson go way back. Drummond reminds readers that Ambrosia has been together for 48 years.
"You're nearing a 50 year milestone," I say.
Drummond jokes about getting ready to pull out the wheelchairs.
As long as Ambrosia is still taking the stage, I don't think fans will mind if they are standing or sitting, as long as they are playing.
While who has played in Ambrosia, over the years, has changed, Drummond says the band continues to hold on strong. This Prague-pop-rock band has had its share of changes, like many bands who have been together for several decades, but that doesn't halt the group from nearing 50 years together as Ambrosia. Not many bands can say the same.
"With the changes in band members, has it been difficult to stay true to the roots of Ambrosia? Is there any animosity between members who have left that may get in the way of the music?"
"I think you can be influenced by your past, but  I don't think you should let yourself be dictated by your past, otherwise you won't be growing.  Obviously, the past is part of you.  You can't shut the past out. We have to let ourselves be true to ourselves," answers Drummond.
And the changes — he's honest about the changes.
"Three original members and three new members — it's not going to be exactly the same. We have to embrace it," openly admits the musician.
One experience that Ambrosia has more than embraced — has truly held in the absolute highest regard — is covering Magical Mystery Tour for none other than The Beatles. "It's an honor to pay tribute to one of your biggest influences," highlights the rock star.
I did ask if the leading Ambrosia man was lucky enough to ever meet one of The Beatles and well, he did hang out with Ringo Starr at a New Years Party and Joe Puerta was also lucky enough to meet the other one and only — Mr. Paul McCartney. So, not only does Ambrosia cover The Beatles's songs, they hang, too. Maybe one day, fans we'll be just as lucky to hear a Beatles and Ambrosia collaboration. Don't quote Drummond on this. This is just me — speculating or dreaming. Hey, anything can happen. Things change. Even band names. (So, we can be hopeful.)
Speaking of band names. Drummond informed me that Puerta was the practical when looking up the meaning of the name Ambrosia during the great band name change (note that the long lived band name, Ambrosia, means the nectar of the immortal Greek Gods) of the group back in the day.
But, after asking the classic band member, Drummond, his taking on conquering the dreams he did, practicality lives within him as well.  "I was talking to my friend the other night — an amazing composer — I guess one percent of all drummers and composers actually make a living. If you have a plan B, you should go do plan B.  It [your dream] has to be something you really cannot not do. You have to be so driven to do this line of occupation. That might not be practical advice. If you are weighing options — I might want to be a musician, or writer, or lawyer…well, you probably should go be a lawyer. If you are vacillating between the two…"
Drummond added that while luck is also a factor in everyone's life, the main component is our own internal drive.
So, there's a dose of practicality on dream chasing for you.
But, to chase some music from a classic band, that takes you back in the day, visit Kent Stage on Sept. 29 to see Ambrosia at its best. Because as Drummond told me, the band is better than ever these days.