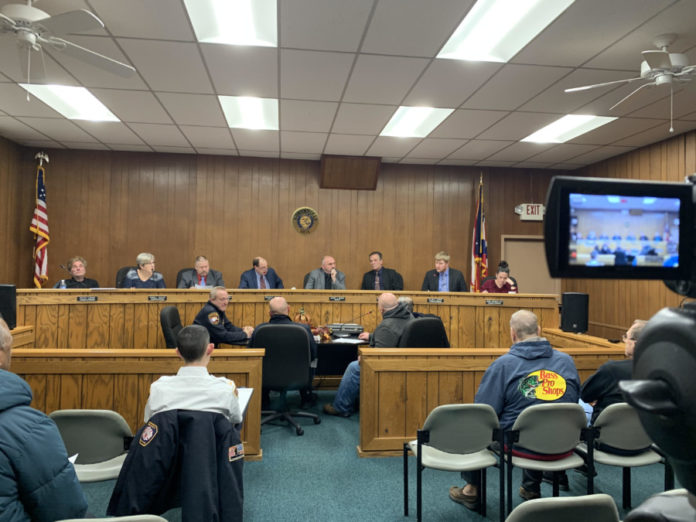 At the beginning of the meeting a Toy Drive was announced: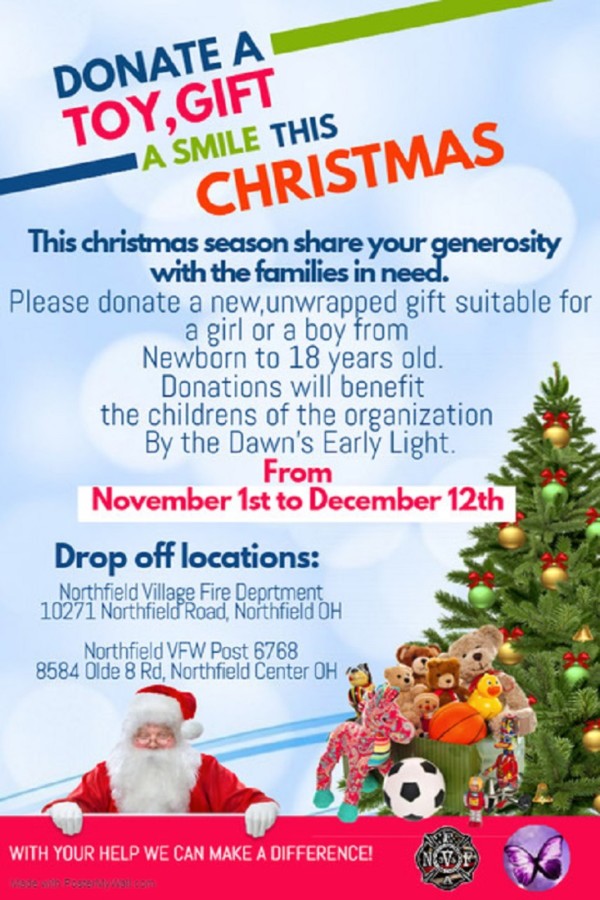 The Village of Northfield Council read a public reprimand as a result of the October 16 censure of taken against Councilperson Keith Czerr. See the trial on video here: Keith Czerr Censured for Conduct Unbecoming an Elected Official
All three legislative items passed:
2019-69 – An Emergency Resolution Authorizing Certain Amendments to the 2019 Appropriation Resolution and/or Transferring Items Already Appropriated in that Resolution (First Reading) 
2019-70 – An Emergency Resolution Authorizing the Purchase of Road Salt from Cannon Salt and Supply Inc. and/or Cleveland Capital Enterprises Inc. (First Reading) 
2019-71– An Emergency Resolution Authorizing the Director of Finance to Deposit Funds into the Village's Unclaimed Fund (First Reading)
---
Council approved three variances for the New Dollar General. See the video here for the Planning Commission Meeting with Dollar General 10-16-19 (VIDEO)
---
VILLAGE OF NORTHFIELD ENGINEER'S REPORT – RICHARD S. WASOSKY, P.E., P.S.
Subject:
Cuyahoga South Watershed Meeting
Comment:
I attended the NEORSD Cuyahoga South Watershed meeting on October 17, 2019 at the Walton Hills Village Hall. NEORSD emphasized that all communities should be submitting projects for approval for spending their stormwater account funds. I recommend we use part of our account for the drainage on Coventry Drive in 2020.
Subject:

Comment:

Dollar General Preliminary Plan Approval

The Planning Commission met on October 16, 2019 to approve Dollar General's preliminary plans. At the meeting, I provided Dollar General's Engineer and the Planning Commission with my review comments on the preliminary plans and calculations. On October 21, 2019, I provided additional comments on the preliminary plans and calculations to both the Engineer and all councilpersons.

The following six variances are needed for the project:

1) Front yard setback of 44 feet minimum in lieu of 50 feet

2) Side yard setback along Northfield Road of 15 feet minimum in lieu of 20 feet

3) Number of parking spaces shall be 30 in lieu of the 53 required by the ordinance

4) Eliminate the parking landscaping island and parking area interior landscaping

5) Provide only one 2-1/2 diameter tree along Northfield Road

6) Permit the enclosed waste facility along the west side of the building in lieu of the rear of the building

Subject:
Houghton Road Reconstruction and S.R. 8 Traffic Signals Improvement Project
Comment:
I have received a letter from the traffic signal contractor indicating that the mast arm poles will be shipped from Union Metal Corp. on December 26, 2019 to the painting company for the final coating of the poles. The painting should take approximately 2 weeks. The earliest the poles will be installed is mid January 2020.
Subject:
Tree Planting
Comment:
The Village hosted a Tree Planting Workshop with Summit County Soil and Water on Wednesday, October 16, 2019 at the Northfield Village Hall. One tree was planted by the Service Department in the southwest corner of the Village Hall. This meets the Village's compliance requirements for the 2019 Stormwater Program.
Subject:

Comment;

Subject:

Houghton Road and Vorderman Road Asphalt Milling and Resurfacing

Both roadways have been milled and resurfaced and the centerline of Houghton Road striped. I will do a final project inspection at the end of the month.

Coventry Road Plan Survey

Comment;
My surveyors are continuing surveying the driveway profiles, cross sections and topography for the Coventry Road Reconstruction Project .
---
The Village of Northfield Fire Department Report Fire Chief Jason L Buss
330-523-9422 Business Cell firechief@northfieldvillage-oh.gov
November 13, 2019
Activity Report
A detailed copy of any fire department activity is available upon request.
Call Statistics – As November 13th, 2019 responded to a total of 732 incidents in 2019 (+5% over last year at this time). Of NVFD's total responses, 587 (80%) of those incidents were EMS related and 145 (20%) incidents were FIRE related.
Mutual Aid Report – In 2019, NVFD provided mutual aid for 46 incidents, provided automatic aid 27 times, and received mutual aid for 18 incidents and automatic aid for 4 Incidents. (Total MA received in 2013 was 13, 2014 was
15, 2015 was 22, 2016 was 28, 2017 was 26, 2018 was 29)
NVFD's Average Response Time from time of call till time on scene is 3:40
MGM & NVRC Stats – NVFD responded to 135 medical / 4 fire incidents at MGM/NPRT and 61 medical / 2 fire incidents at NVRC in 2019
Fire Inspector / Prevention Report (November 13, 2019)
71 Annual Fire Inspections have been completed
13 Hood/Duct/Alarm/Sprinkler Tests have been completed
70 Standby Events at Hard Rock Rocksino
2017 OFC Radio Compliance Test Due at Hard Rock on 7/2019
Department News / Upcoming Events
Fire Station Remodel – We are moving into the "Design / Development" phase of the fire station remodel project. WE are still on schedule for bid documents being released in early 2020 with the goal of construction starting in March/April 2020. Estimated completion will hopefully be around April 2021.
Santa Gift Delivery – Santa gift run will be December 15th, 2019. Next week I will be posting information for the Santa Delivery Run on NVFD's Facebook page. The party at the fire station will be December 15th at 4PM, following the gift run. Stay tuned for more details.