The Nordonia Knights Boys Cross Country Team showcased their talent at the Bruce Lerch Invitational, held at Brecksville-Broadview High School. Competing against 18 divisions, the Knights secured 7th place with a total of 232 points.
Kaleb Rayle led the Knights with an impressive time of 18:28.30, earning him 41st place individually and contributing 39 points to the team's score. Junior Kaden Seredick followed closely, finishing 45th individually with a time of 18:35.00 and accumulating 43 points.
Justin Roberts, with a time of 18:35.30, secured the 44th position individually, adding to the team's points. 
The Knights' scoring also featured Andy Cundra, who finished 49th individually with a time of 18:43.10, contributing 47 points, and Branden Garren, who crossed the line at 19:08.30, securing 63rd place individually and adding 59 points to the team's total. 
Ethan Mellott, finishing in 69th place with a time of 19:15.70, and Rapheal Gotfryd, placing 85th with a time of 19:34.10, rounded out the Knights' performance.
Click here for more pictures by Jason Roberts Photography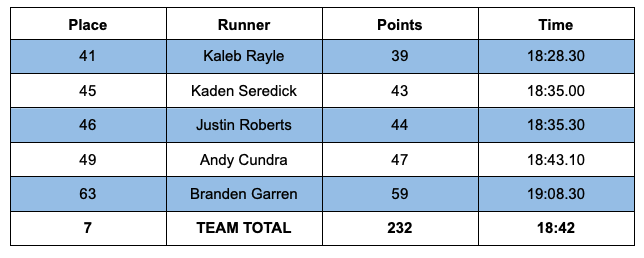 UP NEXT: The Nordonia Cross Country boys will be making a trip to Boardman, Ohio, for the Spartan Invitational. This is to be held on the 16th by 9:00 a.m.
Brought to you by: