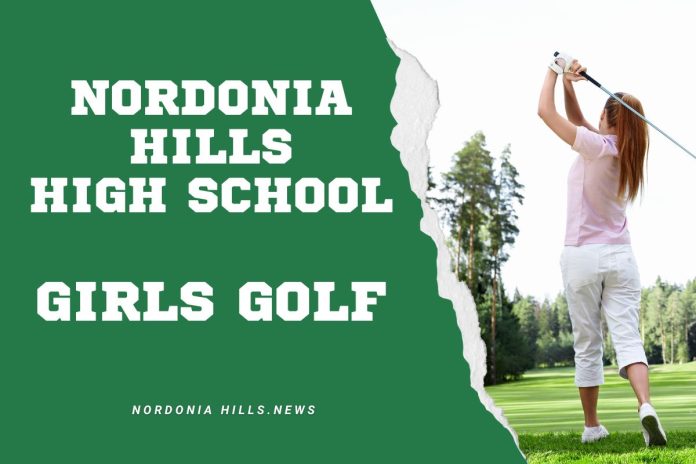 The high school girls golf team at Nordonia just finished an exciting fall season that took them all the way to the district tournament. We spoke to Coach Greg Harris about the highlights, the behind-the-scenes work, and the future goals in this exclusive interview.
Joshua: The Nordonia Girls Golf Team had an exciting season that saw them progress to the district tournament. Can you share the key highlights and memorable moments from the team's journey in 2023?
Greg Harris: Our 2023 journey began with our state qualifying year in 2022. We graduated 5 out of our top 7 players in 2022, leaving us with our two leaders and captains for 2023, Brooke Barnes (senior) and Julia Gulla (junior). They were joined by returning sophomore Maddie Eisner and two first-year sophomores, Natalie Barnes and Carley Sutton, to form what ended up being our top 5 girls for 2023. Taylor Hawkins, Gabby Patsy, Hilary Watson, and Delaney Gorta were the next three candidates for the sixth spot on the team, after Polly Loney, Chelsey Wolf, and Lauren Torain. 
With the help of Coach Kristi Gunyula, all of these girls developed their games and put us in a position to finish 3rd in the National Division of the Suburban League out of 8 teams and play well in Sectionals (finished 4th out of 15 teams) to qualify for Districts for the 4th year in a row.
Some notable moments included starting the season with a 325 team score at the first Suburban League Tournament under the leadership of Julia Gulla, who shot a school record of 67. Including sections and districts, we played in 17 18-hole events this year. This is more than any other season in my nine years of coaching. In these 17 tournaments, we finished 2nd once, 3rd four times, 4th twice, and 5th once. We also had a 7th-place finish out of 21 teams at the very difficult Independence Tournament, which included at least six teams that went to state this year.
Joshua: Earning a spot in the district tournament is a notable achievement. Can you tell us about the hard work and dedication that went into preparing the team for this level of competition and what it meant to the players?
Coach Greg Harris: We started our spring practices in April and continued through our summer practices until our season started on July 31st. With the support of Windmill Golf Center in Macedonia, the girls can go there anytime throughout the year and practice, and many of the girls take advantage of this opportunity. Playing so many 18-hole events with other good teams during the season is also a key to being ready for sectionals, districts, and states.
Joshua: Despite finishing 11th at the Northeast Ohio District Athletic Association, the team showcased its talent and determination. What are the key takeaways and lessons from this experience that you believe will benefit the team in the future?
Coach Greg Harris: This district tournament is longer than most of the courses we play during the season, and the weather is generally breezier and cooler. All things that make the game more challenging. With three of our girls being new to these challenges, we learned a lot, and this will help us be much more prepared for next year. Brooke Barnes, one of our best players, is graduating, but our other four girls will be back, including our #1 player, Julia Gulla, and three sophomores, Natalie Barnes, Carley Sutton, and Maddie Eisner.
Joshua: Looking ahead, what are your goals and aspirations for the Nordonia Girls Golf Team, and how do you plan to build on the successes and challenges of the 2023 season?
Coach Greg Harris: Our first two goals are always the same: have fun and help every team member get better. On top of this, we want to be back competing for the Suburban League title again and making a good run to get back to the State Tournament. In addition to all of the experience our younger players gained this year, we are already doing fall practices twice a week (didn't start last year until April) and planning to use the weight room this winter, which is something that we have never done before as a team.
Athlete Update: Recognizing Excellence
In a proud moment for Nordonia Girls Golf, individual achievements shine:
Julia Gulla: Repeated as Player of the Year for the Suburban League National Division

Brooke Barnes: First Team Suburban League National Division

Natalie Barnes: Second Team Suburban League National Division

Carley Sutton: Honorable Mention Suburban League National Division
The selection of Julia Gulla to the First Team All-Northeast Ohio is an unprecedented accomplishment for Nordonia and one of her many honors. Brooke Barnes was recognized as a second-team All-Northeast Ohio selection. All four seniors also won the prestigious Academic All-Ohio Award, which shows how well they did in both sports and school. My best wishes to Brooke Barnes, Taylor Hawkins, Gabby Patsy, and Lauren Torain.
Brought to you by: