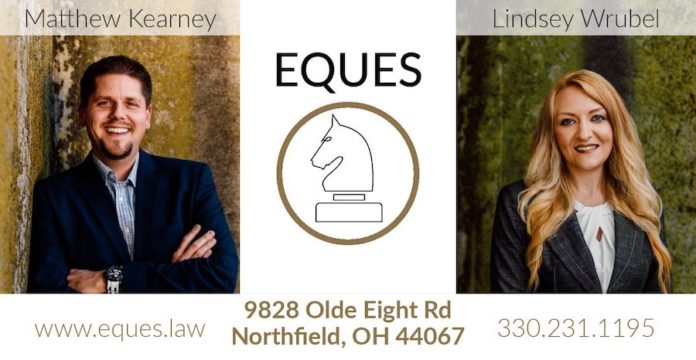 Northfield, OH 11/17/2023 – EQUES® Law Group proudly announces that Matthew Kearney, one of its esteemed attorneys, was sworn in and admitted to practice before the Supreme Court of the United States today. This momentous occasion was marked by Senior Partner Thomas D. White, who served as Matthew's movant during the admission ceremony.
Matthew's admission to the Supreme Court allows him the prestigious opportunity to represent clients and undertake legal matters at the highest level of the U.S. judiciary. He now stands as the second attorney at EQUES® Law Group to achieve this distinction, joining Senior Partner Thomas D. White in this elite rank.
With this achievement, Matthew Kearney joins a select group of legal professionals, constituting only 6% of the nation's attorneys holding an active license to practice before the United States Supreme Court. Out of an estimated 1.3 million licensed attorneys in the United States, Matthew will be among the exclusive 75,000 admitted to practice at the Supreme Court.
Qualifying for admission to the Bar of the Supreme Court is a rigorous process, requiring an applicant to have been admitted to practice in the highest court of a State, Commonwealth, Territory, or Possession, or the District of Columbia for a minimum of three years immediately before the date of application. Additionally, applicants must exhibit good moral and professional character, without any adverse disciplinary actions during the preceding three-year period.
EQUES® Law Group congratulates Matthew Kearney on this extraordinary accomplishment and looks forward to the continued excellence and dedication he brings to the firm and its clients.
About EQUES® Law Group
EQUES® Law Group is a premier legal institution with a legacy of over 150 years of collective legal experience. Established in 2010, the firm began as a father-son partnership in Millersburg, OH, and has since grown strategically to encompass eight locations across Ohio. With a team of 14 skilled attorneys specializing in 11 practice areas, EQUES® Law Group is dedicated to delivering innovative and tailored legal solutions. The firm's core values of Honesty, Empowerment, Innovation, and Respect underpin its unwavering commitment to client satisfaction and legal excellence.