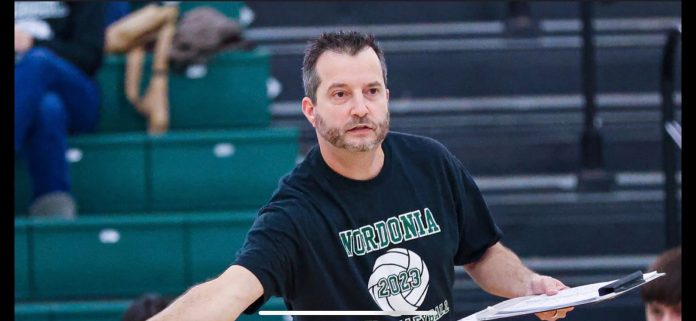 Nordonia Hills.News had the opportunity to speak with Covelli Rocco, the head coach of the girls' volleyball team at Nordonia High School. Coach Rocco has an impressive coaching career that includes establishing the boys' volleyball program at Nordonia last year and leading the girls' team to a remarkable turnaround this season. In this interview, we learned more about his coaching journey, the wealth of experience he brings to Nordonia, and his early experiences coaching the girls' volleyball team.
Impressive Coaching Career
Joshua Okeke: With an impressive coaching career that includes establishing the boys' volleyball program at Nordonia last year, could you share some key highlights from your coaching journey, including any memorable moments or achievements that stand out to you?
Covelli Rocco: My first year at Maple Heights I took a team that was down emotionally and had their first losing season in over 10 years. We started with one returning varsity letter winner and went undefeated in the league that year, winning our first of three LEL championships. That was a very special season. Also, in my first year coaching JO at Buckeyefire, I took a group of 11 to 12-year-olds who had little to no experience playing the game of volleyball and, in two years, made them one of the top teams at the American level by winning the Cleveland Cup and three more tournaments.
Transition to Girls' Volleyball
Joshua Okeke: You've taken on the significant responsibility of coaching the girls' volleyball team at Nordonia. What motivated you to step into this role, and how has the transition been for you in comparison to coaching the boys' team?
Covelli Rocco: The success we created by starting a brand new program with the boys motivated me to challenge myself to do the same with the girls. It's the exact situation I was brought into when I coached at Maple. Nordonia Girls had won the league for three straight years, and then last year they won a total of three games. I wasn't planning on coaching both the boys and the girls, but when Coach Tim resigned and, in talking to him and my wife and family, they gave me the motivation I needed to try and rebuild this program, I had to interview and show Nordonia how honored and passionate I am to have been considered to be the head coach and now the leader of the program. I know what talent we have at the middle school and JO programs, and the passion I have and hard-working ethics that I challenge myself to do along with my players have transitioned very nicely with the girls. Being the boys coach was really helpful as well, because I felt more comfortable with the girls than the boys because we were really starting from scratch with the boys.
Accolades and Coaching Philosophy
Joshua Okeke: Your career record of 89-31 and three L.E.L. championships speak to your coaching success. Can you elaborate on your coaching philosophy and the principles that have guided you throughout your career?
Covelli Rocco: I expect my teams and coaches to work hard! Winning a volleyball game is difficult, especially in our league, and the girls need to practice how they play. The way to rebuild programs and turn around a losing mentality is for the players to believe in you. If they believe, they will work hard, and if they see results, they will have fun. All my teams have been very close on and off the court, and establishing that family bond has always been very important to me when putting together teams.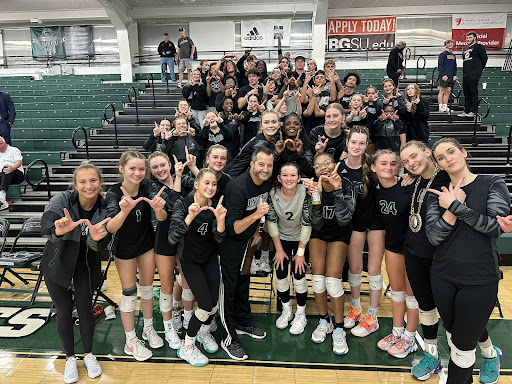 Early Experiences with the Girls' Team
Joshua Okeke: Having been with the girls' team for about a month now, what are your initial impressions of the players, their dedication, and the potential you see in the team? Any particular challenges or highlights you've encountered?
Covelli Rocco: They want to be successful, but they want to have fun as well. They want to be coached, and they want to get better every day. This team was divided and not UNKNIGHTED. So, we implemented the UNKNIGHTED theme this year, and the girls from day one were dedicated. We had 3–4 hour open gyms in the summer and played in multiple leagues and tournaments. The main highlight is just seeing how everybody supports one another, and winning that first 5-set match vs. Solon in come-from-behind fashion was pretty sweet..
Goals for the Girls' Team
Joshua Okeke: Looking forward, what are your goals and aspirations for the Nordonia Girls' Volleyball team this season and beyond? How do you plan to leverage your experience to help the team succeed, and what role do you envision the Nordonia community playing in supporting the team?
Covelli Rocco: Well, we are currently 3-7, and we would love to flip that record and go 7-3 in the second half of the season. It will be tough, but we want to make a statement in the state tournament. We have the 10th toughest schedule in the state of Ohio. We feel that if we get a good draw in the tournament, we can make some noise and be a tough team to beat. But we have to believe and keep working harder every day to accomplish this goal. We have a young team, and we are building that toughness and warrior mentality to be ready to compete for the league title for the next 4–5 years. It's just an honor and a privilege that I have the opportunity to try and rebuild another program here at Nordonia, and I promise I will work harder than anyone to try and accomplish our goals, and the support from the Nordonia families and stakeholders only pushes me more to get this team back to its winning ways, but to do it with the enjoyment of a special group of young ladies and dedicated coaches!
Brought to you by: