In a recent golf match against Tallmadge High School, the Nordonia Boys Knights emerged victorious. The match took place at Nordonia's home course, the Ellsworth Meadows Golf Course, starting at 2:00 p.m. 
Leading the way for the Nordonia Boys Golf team was senior Ben Mallis, who delivered an impressive low par score of 35. Close behind, senior Drew KitzMiller achieved an individual score of 41, while Ryan Mallis contributed a score of 45. 
Supporting the team with their individual scores were Caden Cook, Grant Lucician, and Brody Gopalakrishna, who posted scores of 46, 47, and 50, respectively. 
The Boys Knights collectively achieved a team score of 167, outperforming Tallmadge High School's boys golf team, which had a total team score of 182. This victory was the perfect rebound for the Knights, especially after their recent defeat when they faced North Royalton High School on September 7th. 
Leading the scoring for the Nordonia Golf team was Ben Mallis, who delivered an impressive shot of 37. Other notable scorers included Drew Kitzmiller with 41, Caden Cook with 43, and Ryan Mallis with 46.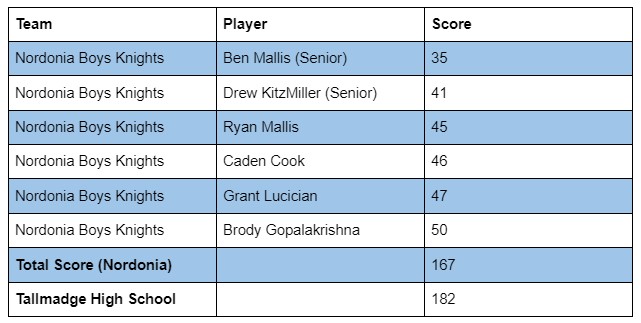 UP NEXT: The Knights will next be hosted by Brecksville-Broadview Heights High School on Tuesday, September 19. Tee-time is set for 3:00 PM from Sleepy Hollow Country Club.
Brought to you by: