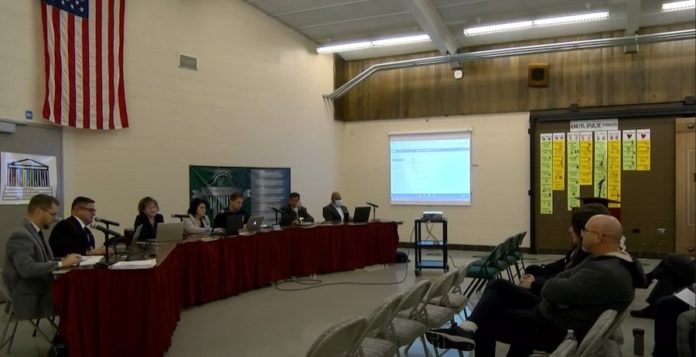 The $165 million bond issue was voted down in November and the Board of Education has not made any decisions on what to do next according to Board member Chad Lahrmer.
Lahrmer made the comment during the November 21, regularly scheduled Board of Education meeting.
There have been discussions on what could be done, but nothing has been decided, according to Lahrmer.
According to Lahrmer, the Board discussed several options at a pre-meeting work session on November 21.
The work session was the first time the Board members have been together to discuss the bond issue failure, he said.
"There have been absolutely no decisions made," Larhmer said.
He said rumors the Board has made a decision on what the next step will be is not true.
The bond, if passed, would have paid for construction of three new buildings, which would have housed all of the district's grades.
If passed, the bond would have cost a homeowner approximately $273 per year per $100,000 of home valuation.
According to the final, but still unofficial results, from the Summit County Board of Elections the bond issue failed by a count of 9,624 or 60.35 percent against and 6,324, or 39.65 percent, for.
In legislation:
A revision to a policy dealing with sexual harassment and making complaints was approved.
Transportation costs and an overnight stay for the cross country team was approved.
A donation from the North Summit Lions Club, in the amount of $2,000 to the Nordonia High School Bowling Program, in honor of Steven Ritley, was approved.
A donation from the Nordonia Schools Foundation, for $150 to purchase breakfast for 33 Nordonia students and 7 guest speakers on October 25 during an in-school field trip was approved.
A $901 donation from "The Giving Pump" from the True North School District Donation Program, was approved.
A resolution declaring transportation impractical for certain identified students was approved.
A Resolution in Support of Tax Incrementing Financing District, under consideration by the City of Macedonia was approved.
A contract with Applewood Centers, Inc. to provide services for one student for the 2022-23 school year, paid for through IDEA-B Funds, not to exceed $55,000, was approved.
The Board approved several purchase service contracts, classified and personnel.
The treasure's consent agenda was approved.
The November 2022 Five Year Forecast Resolution was approved.
A fund transfer resolution of $56,733. From General Fund to Bond Retirement, to cover the first half debt service payment for the District's H.B. 264 debt was approved.
A fund transfer of $513 from the General Fund to Board/Foundation Matching Grant Fund, was approved.
An appropriation adjustment resolution was approved.
The Board entered into an executive session to discuss matters required to be kept confidential by federal law or state statutes.
The next regular scheduled Board meeting is December 19, at 7 p.m. at Northfield Elementary School, 9374 Olde Eight Road in Northfield.